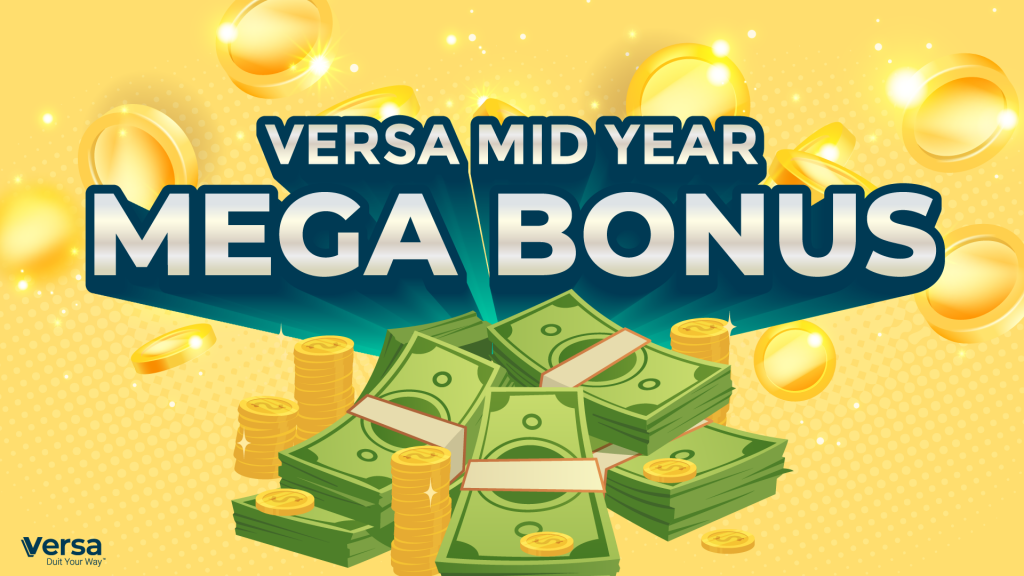 As a show of appreciation for your support, we want to help you reach your goals faster while spreading the joy of unlocking your wealth's potential.
We know you love sharing great deals with your friends. So we got one just for you!
Now you can get more $$$ on top of your regular Referral Rewards. Stand to receive up to RM120 when you successfully refer your family and friends to Versa 🤯🎁
Boost Your Referral Rewards!
Here's what you need to do
For your referrals to be counted as eligible, your friend must follow 4 simple steps:
Your friend must be a new user and does not have an existing Versa account or closed Versa account.
Your friend must sign up using your referral code or referral link.
Your friend must complete onboarding.
Once they have onboarded, your friend must make a first minimum deposit of RM100 into Versa Cash/Versa Invest.
The RM10 Referral Reward will be credited into both your and your friend's Versa account within 30 business days after your friend has completed all the steps and their account has been verified.
For the Boosted Bonus, once you have met the number of successful referrals – 3, 5, or 7 referrals respectively – the Boosted Bonus will be credited to your Versa account within 30 working days after the end of the Campaign.
Terms & Conditions
The Mid Year Mega Bonus campaign period is from 15 June – 31 July 2022.
Versa is only available for Malaysians aged 18 and above who own an Identification Card (IC) and a Savings Account.
This campaign is open to all Versa users.
Boosted Bonuses will be deposited into users' Versa account within 30 business days after the end of the campaign.
In order for the referral to be counted, the referees are required to make a first minimum deposit of RM100 immediately upon creating their account.
Users are only allowed to redeem one (1) tier Boosted Bonus out of the 3 tiers of Boosted Bonuses (e.g. users can only redeem the RM50 Boosted Bonus after making 7 successful referrals. They are ineligible to receive the Tier 1 and Tier 2 Boosted Bonus).
No additional Boosted Bonus will be awarded for subsequent successful referrals after the first 7 successful referrals. Users' referrals will be counted towards the Top Referrers Challenge and will still receive the RM10 Referral Rewards as per Versa's Referral Program.
Only accounts that are created, verified, and made the first minimum deposit of RM100 within the campaign period (5 June – 31 July 2022) will be counted as successful referrals for the Mid Year Mega Bonus Campaign.
The Boosted Bonus will be credited into the users' Enhanced Deposit Fund (EDF) i.e Versa Cash in the form of units.
Versa will not disclose any information related to users' eligibility and information regarding the application status of users referees' accounts.
Versa will not entertain the addition and switching of referral codes when an account has been created with or without an existing referral code.
Versa reserves the right to alter or modify the campaign mechanics at any time.
Versa reserves the right to terminate and decline to grant the reward if in any event Versa determines that there may have been fraudulent activity or a violation of the terms stated.
By participating in this Campaign, the eligible participants hereby expressly agree to be bound by these terms & conditions and any decisions made by Versa in respect of the campaign shall be final and binding.