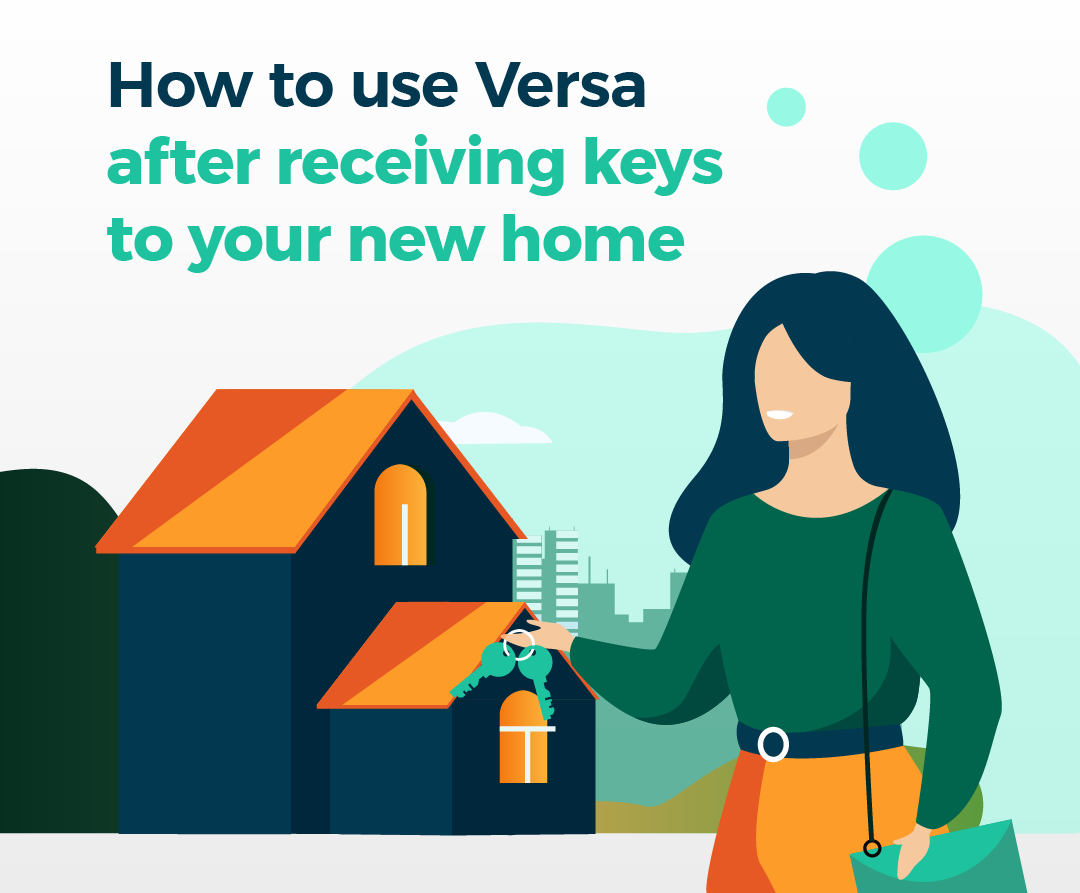 This is the second part of our first article "How to use Versa when saving for a house." which covers how you can use Versa once you've taken the keys to your new home. We will focus on steps 5-9 of the Customer Journey.
Customer Journey
Deciding to buy a house
Discovery & Research
Physical house hunting
Make a decision
Wait for the house to be completed
Take keys and Vacant Possession (VP)
Defect Liability Period
Renovation
Move-in!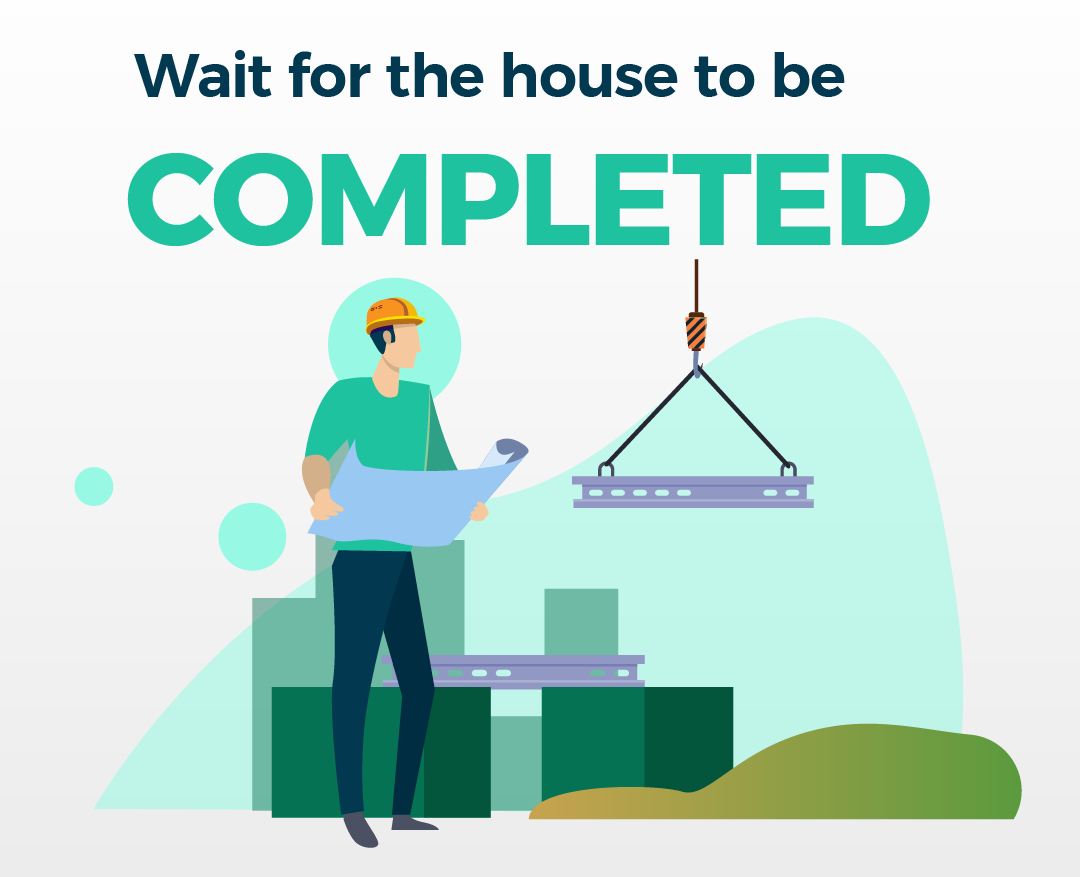 Wait for the house to be completed
This stage can take up to two years depending on what type of property you're buying. The date of the handover is stated in the SPA; for a landed home with an individual title, the handover is to be done within 24 months. For strata-titled properties (condominiums, apartments) it has to be within 36 months. In the meantime, you can still earn interest in Versa Cash and start planning for renovation!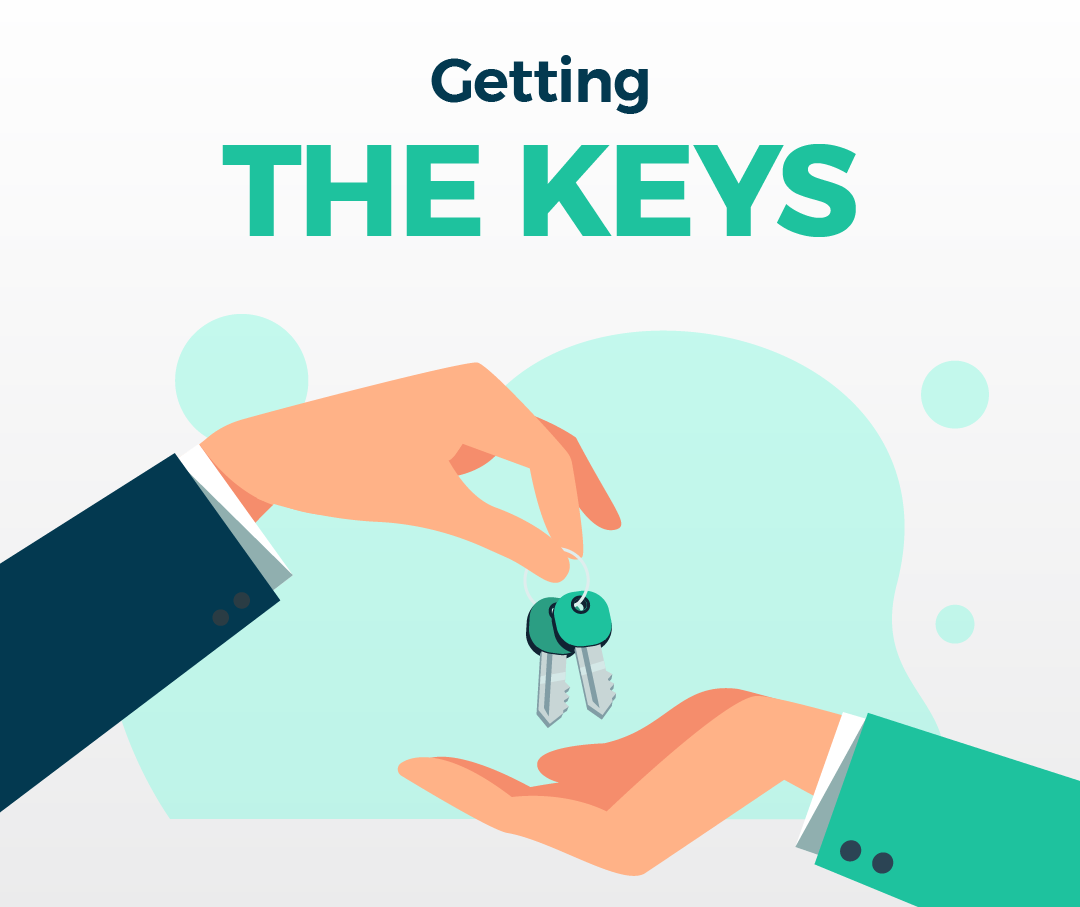 Getting the keys
And finally, the years of waiting and planning lead up to this very moment, the one that every homebuyer looks forward to… getting the keys to their new home! This process is also known as the delivery of Vacant Possession (VP) in which your house is officially handed over to you!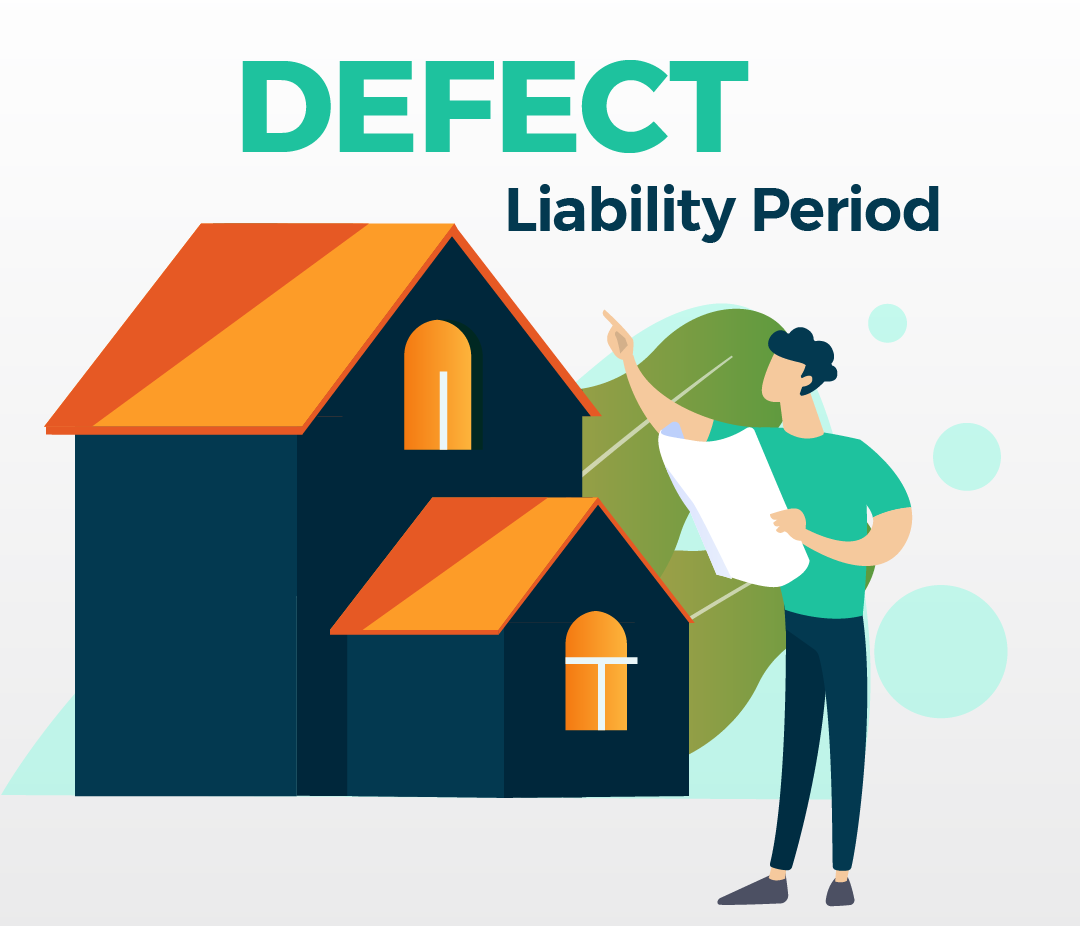 Defect Liability Period (DLP)
You've got your house, that's great! But wait, it's not quite perfect yet, there's still some fixing to be done.
This is a time for you to look for any defects around the house and get your developer to repair them within 24 months. We recommend you hire a professional defect inspector (~RM500) for this as there are smaller defects that may go unnoticed. (E.g., a professional defect inspector will know if your bathroom tiles have enough cement behind it) Some reputable professional defect checkers in Malaysia are: Home Inspection Malaysia, Acepro Home, I-Home Inspector
Nevertheless, if you still want to do the defect check yourself, here are common things to look out for:
Cracks, water damage, bad paintwork on ceiling and walls
Misalignment on the floor and wall tiles
Knock every single tile and hear for any hollow sound
Doors, door frames, hinges, and knobs
Cracks on glass sliding doors, windows, and mirrors
Trails of dried cement, paint, or varnish
Railing on your balcony is firm and properly installed
Ultimately, it'll cost you more for a professional but it is better to fix everything in the early stages. If you end up finding defects after the liability period, you'll be paying a much larger sum for repair works.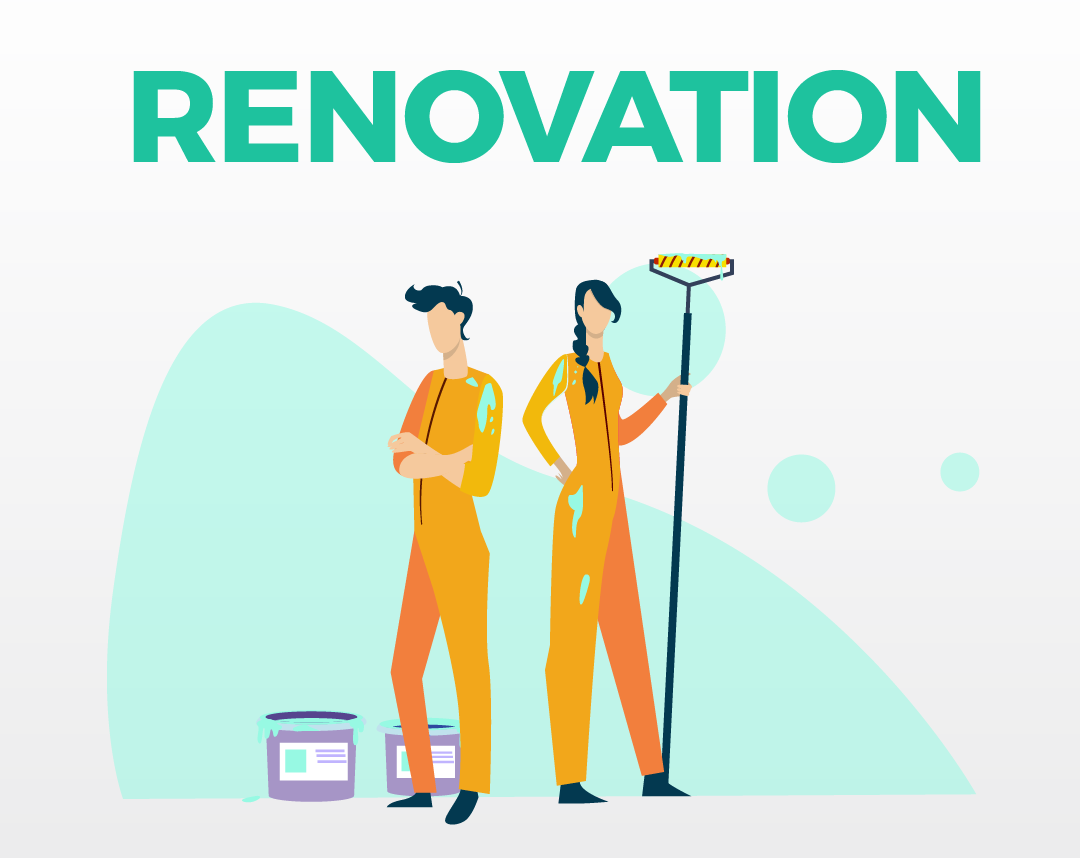 Renovation (Furniture, fittings, electronics)
This is the time to get creative, whip out those design boards, and check out that sofa you've been eyeing!
There is no set amount on how much to spend for renovations but it is safe to assume that it will be at least 10% of the house price. While it is important to make your house as nice and comfortable as you need to, make sure you're not breaking your bank account while doing so.
Here is a rough budget for home renovation costs in Malaysia:

Source: https://www.homa2u.com/stories/renovation-cost-malaysia/
Renovation costs are often paid in installments. It can be split into three stages (30%, 30, 40%) or five stages (20%, 30%, 30%, 15%, 5%), for instance. The terms are often subject to change depending on your contractor. This is where Versa Cash can help you once again.
As Versa Cash allows you to withdraw your money anytime, there is an opportunity for you to continue earning interest while waiting to pay the next installment.
Here is how much you could save when you put your money with Versa Cash from the moment you receive your keys:
Let's assume you make an initial deposit of RM 60,000 in Versa Cash which will be used for renovation, buying furniture, fittings, etc.
Key Assumptions:
Savings account interest rate (%) per annum: 0.20%
Savings account interest rate (%) per month: 0.02%
Versa Cash's EDF interest rate per annum(%): 2.40*%
Versa Cash's EDF interest rate (5) per month: 0.20*%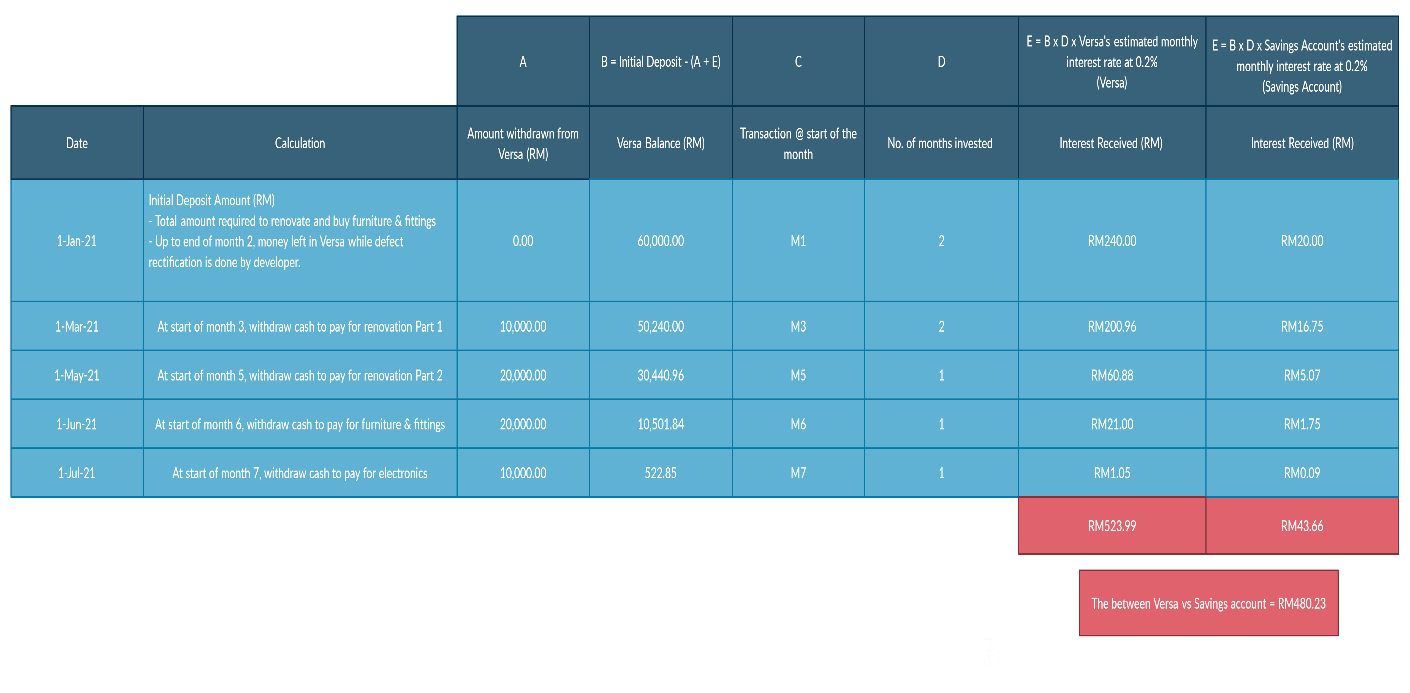 After 6 months, you would have earned RM 523.89 in Versa Cash and RM 43.66 in a savings account. That's a difference of RM 480.23! With that amount, you could afford household items like a cordless vacuum cleaner, toaster oven, and an air fryer for your new home!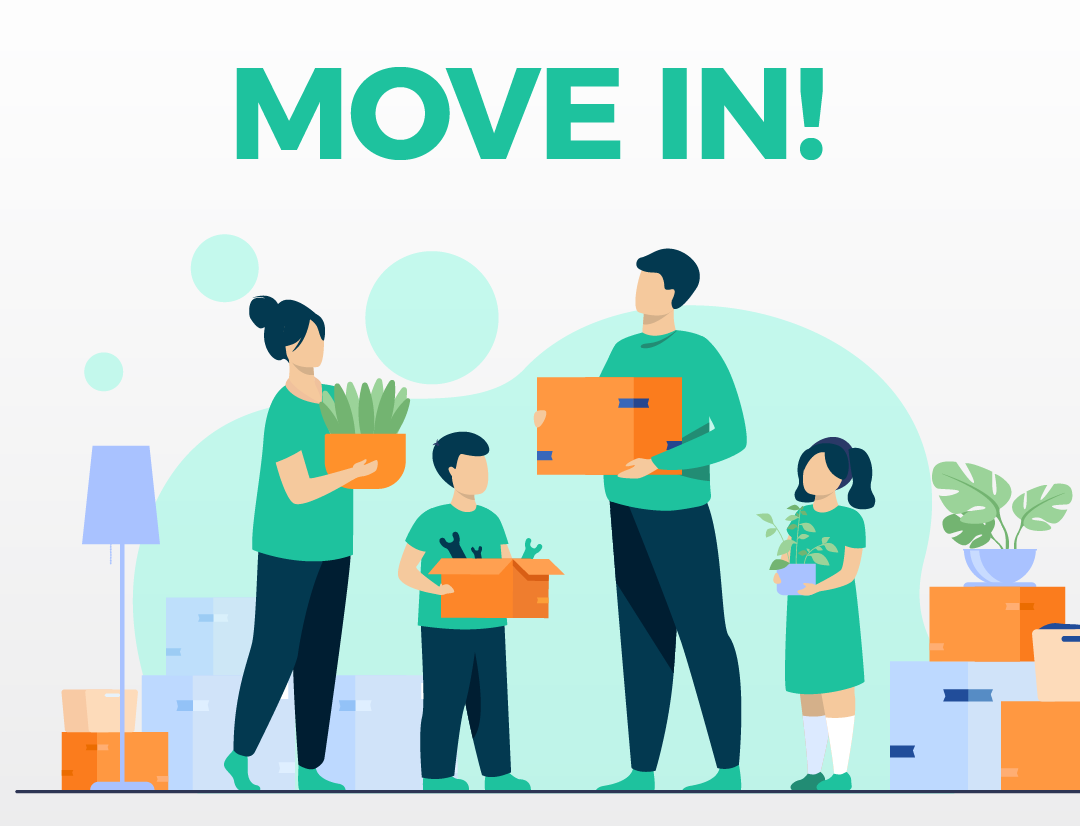 Move-in!
All that's left to do is to move into your new, beautiful home!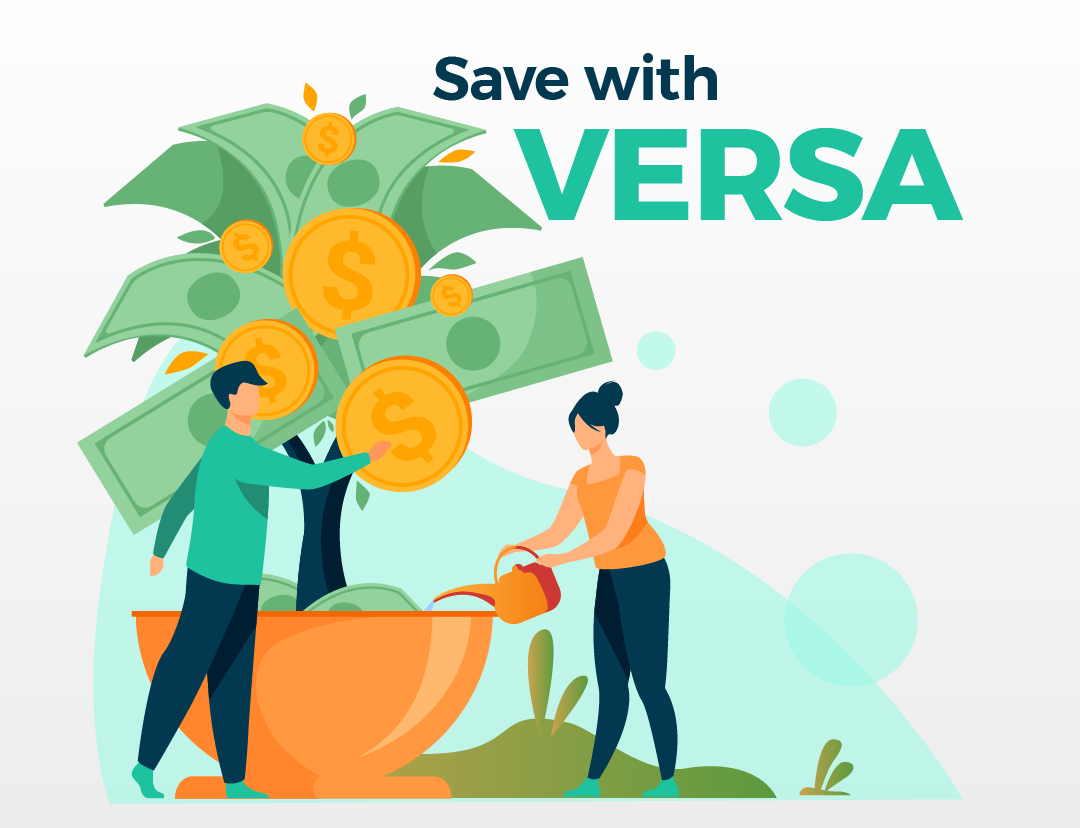 Save Now, Enjoy Later
At Versa, we believe in saving now to enjoy later. For any big purchases in the future, we want to make that process as simple and hassle-free as possible for you. Versa's low minimum deposit of RM 1 has made it easy for anyone to start saving at any time. So, start saving today and your future self will be sure to thank you.
This article is the second part of our two-part series within the #SaveNowEnjoyLater campaign. Follow these tips and tricks to see how you can use Versa to make the most out of your sleeping cash for big life events!
*Projected Returns for 2022.