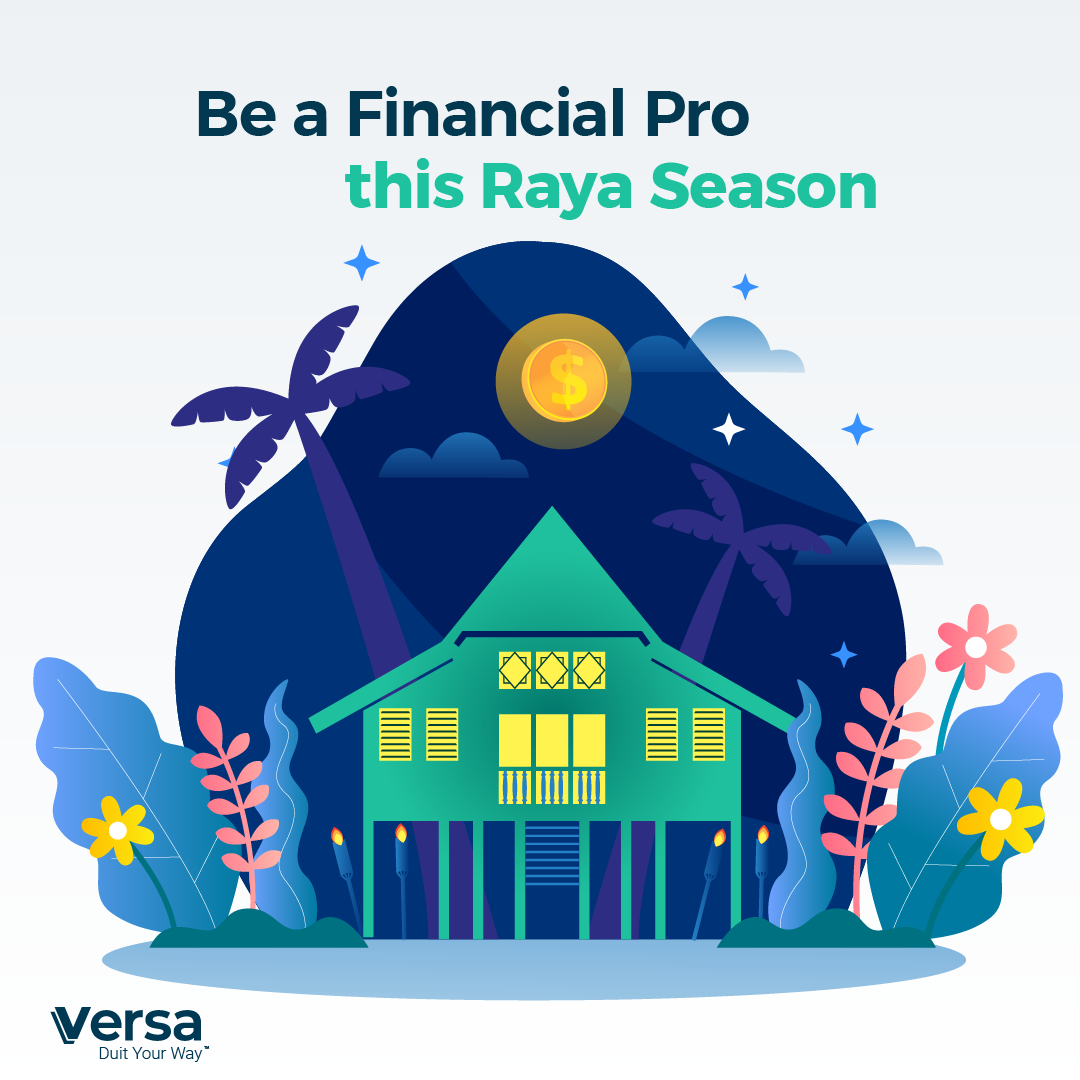 Holidays can be expensive and Eid is no exception. Within 30 days, you need to have the funds for your outfits, lemang, ketupat, and the decorations that come with Eid. Don't forget the dust Raya you will give out (unless you are still on the receiving end). We want you to balance fun and funds this Raya season, like how lemang goes well with rendang. So, let's talk duit this Raya Season, with a little bit of planning, you will be a financial pro that cuts expenses without cutting corners to your Eid celebrations.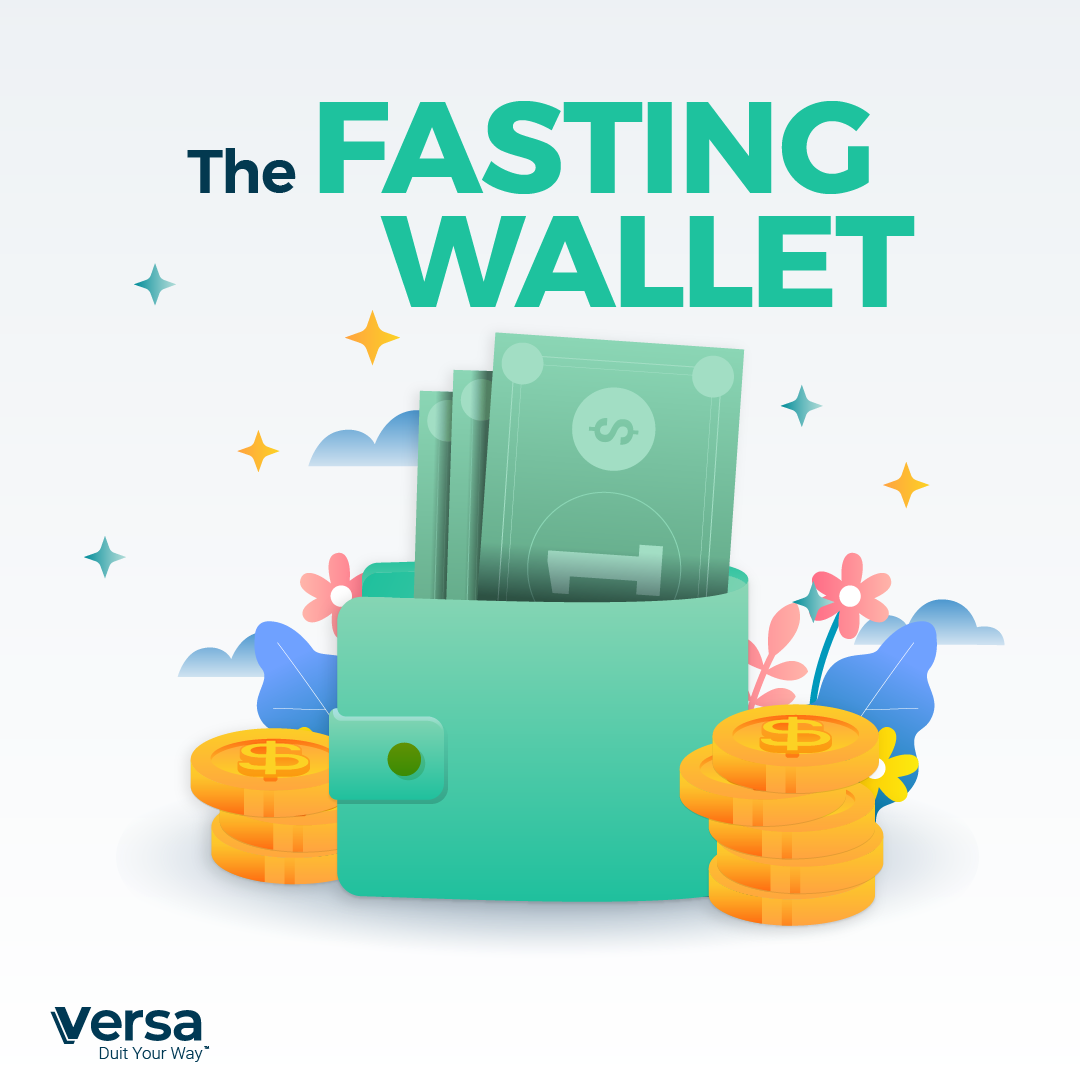 The Fasting Wallet
Bazaar Ramadhan can be super tempting. We know our brain during fasting can impact our buying decisions when presented with an array of food choices. Our tip? Let your wallet puasa with you! We are also not all in when it comes to #TeamDepriving. So, let's break this down, draw a Ramadhan calendar and schedule when to save and when to splurge.
Blue – Save Up
Green – Bazaar Ramadhan
Yellow – Splurge
As you can see, you don't restrict yourself to only be frugal during Ramadhan. You can have one day in the week to spoil yourself during iftar, the choice is up to you, it can be catching up with friends at a boutique café or a family reunion over a steamboat.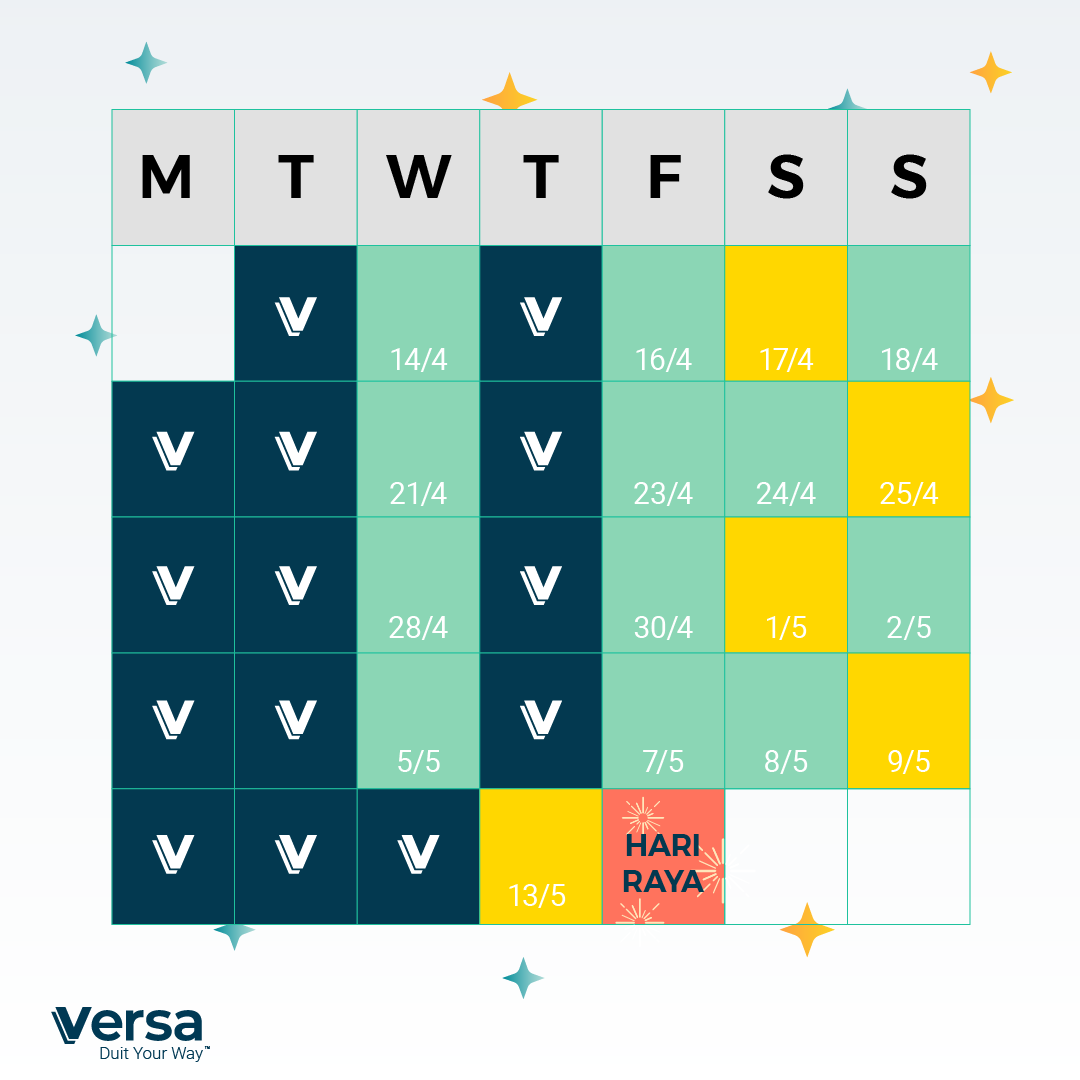 On the days that you decide to head over to a bazaar, limit yourself by only bringing a budgeted amount of cash. Especially when you've familiarized yourself with the bazaar's layout, you will know how much you need for what you want.
For example, you know you're craving for Laksa Penang and Cendol. If those two together cost only RM15, just bring RM20 in cash and decide to spend the extra RM5 on something you want or save it for another day.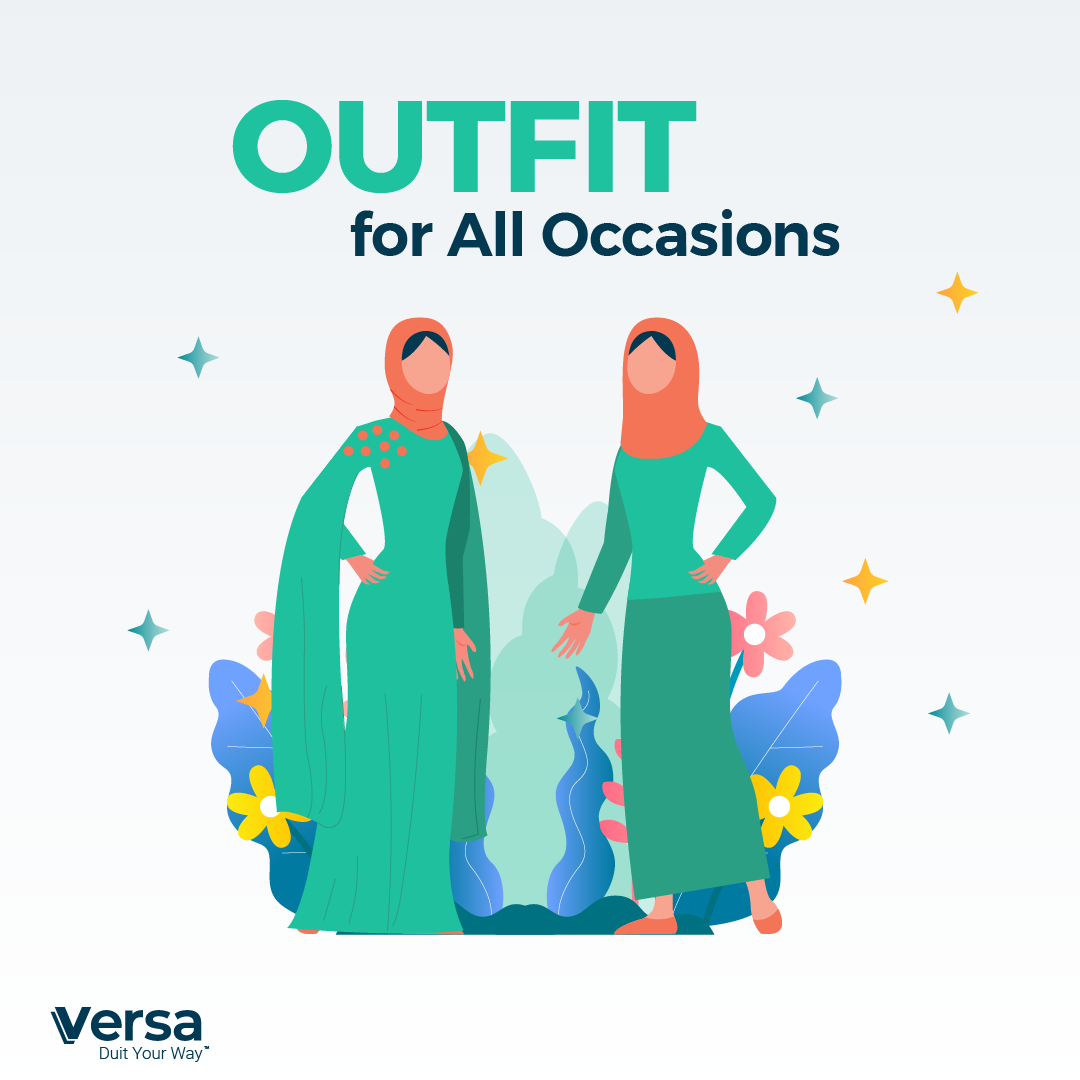 Outfit for All Occasions
Sales, sales, sales! We know you have been scrolling through multiple online shopping platforms nearing Eid, the deals and promotions are endless. You have your eye on options, but what's the final decision when it comes to picking out your Eid outfit?
Get a bang for your buck when you ask these questions:
Will I wear this more than once?
Can I wear this to other occasions?
Can I get something similar at a better price?
Invest in quality pieces that you can wear in different situations; to the office, to a wedding, company dinner. This is the window for you to be financially reasonable and fashionable. See these two outfits, the first outfit (right) is extravagant and most likely impractical. The second outfit (left), a more timeless classic silhouette and you'll still be able to serve the setup and satay with style.
Marie Kondo may ask you "Does that bring you joy?", if striding in a glamorous dress on Eid brings you joy, then who are we to stop you from being happy?
Eid is not just about mending relationships or asking forgiveness. It's also a chance for you to fix what's broken at a cheaper price. Appliance stores such as Sen Heng, senQ, and Harvey Norman will have promotions up to 20% to 40%, so it is the best time for you to replace old ones without spending big bucks.
Let's say you want to replace a washing machine you've had for ages and it seems that it has worn down or has been making noises that it didn't make when you first bought it. You don't have to use your Raya bonus solely to buy a new one, with Versa you are able to plan ahead, when Raya comes around, you will have enough funds to replace your washing machine and maybe add on a dryer too! Check this out, here are a couple of examples we have scouted from their websites:


For example, you aim to buy a washing machine that's RM1,200.00. You deposit in Versa RM100 every month for a year until next Eid. To break things down: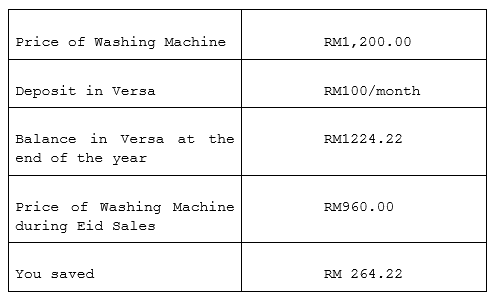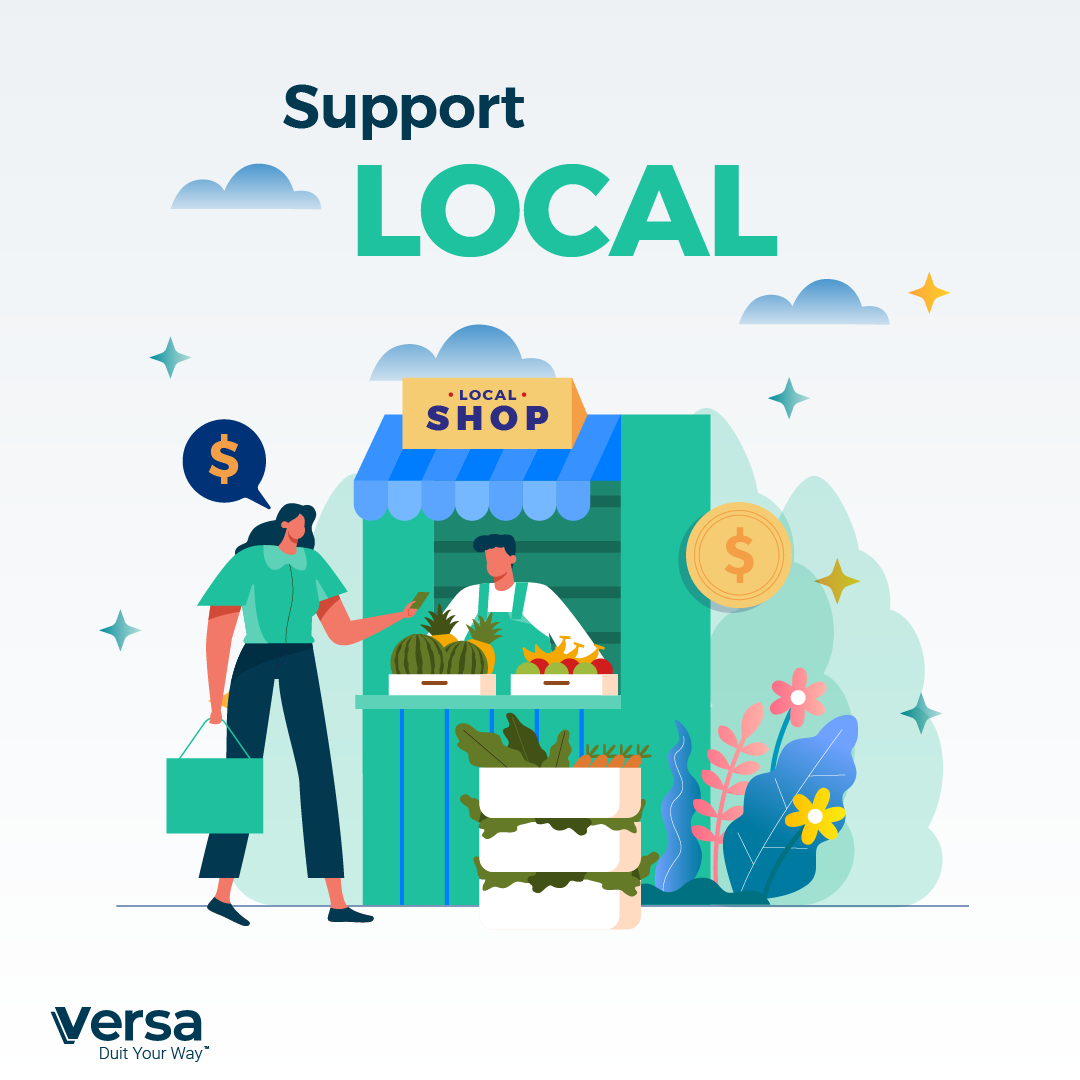 Goodbye Ramadhan, Hello Eid!
After 30 days of fasting, we finally get to celebrate Eid! Where EID means Eat until I Drop, especially with the abundance of kuih-muih and open houses galore.
For this Eid we encourage you to shop affordably by supporting small businesses. You are also able to put a smile on their faces with the number of orders they will receive.
Duit Raya your Way.
Aunties and Uncles still can't remember your age or mistaken you're still in college? You're lucky, you might just accidentally get duit Raya.
"Just a little something for you to buy sweets", but what's sweeter than making your money work for you. Those blue notes just might help you to earn. How? Versa now lets you deposit with a minimum of RM1. We are 100% sure that this is sweeter than sweets (and healthier!)
But if you really are a college student with student loans, let Versa help you to manage your duit raya.
With Versa, you are able to take charge of your fund for the future. By depositing your idle cash in Versa, you can take advantage of daily interest and the flexible withdrawals to pay back your education loan or kick start your adulthood!
All in all, Eid is a once-a-year opportunity to reunite with your loved ones. We can plan all we want, but at the end of the day, it is your happiness that matters. So, don't forget to treat yourself this Eid. Buy, eat, splurge on what your heart desires, and know that you are doing a great job at financial planning!