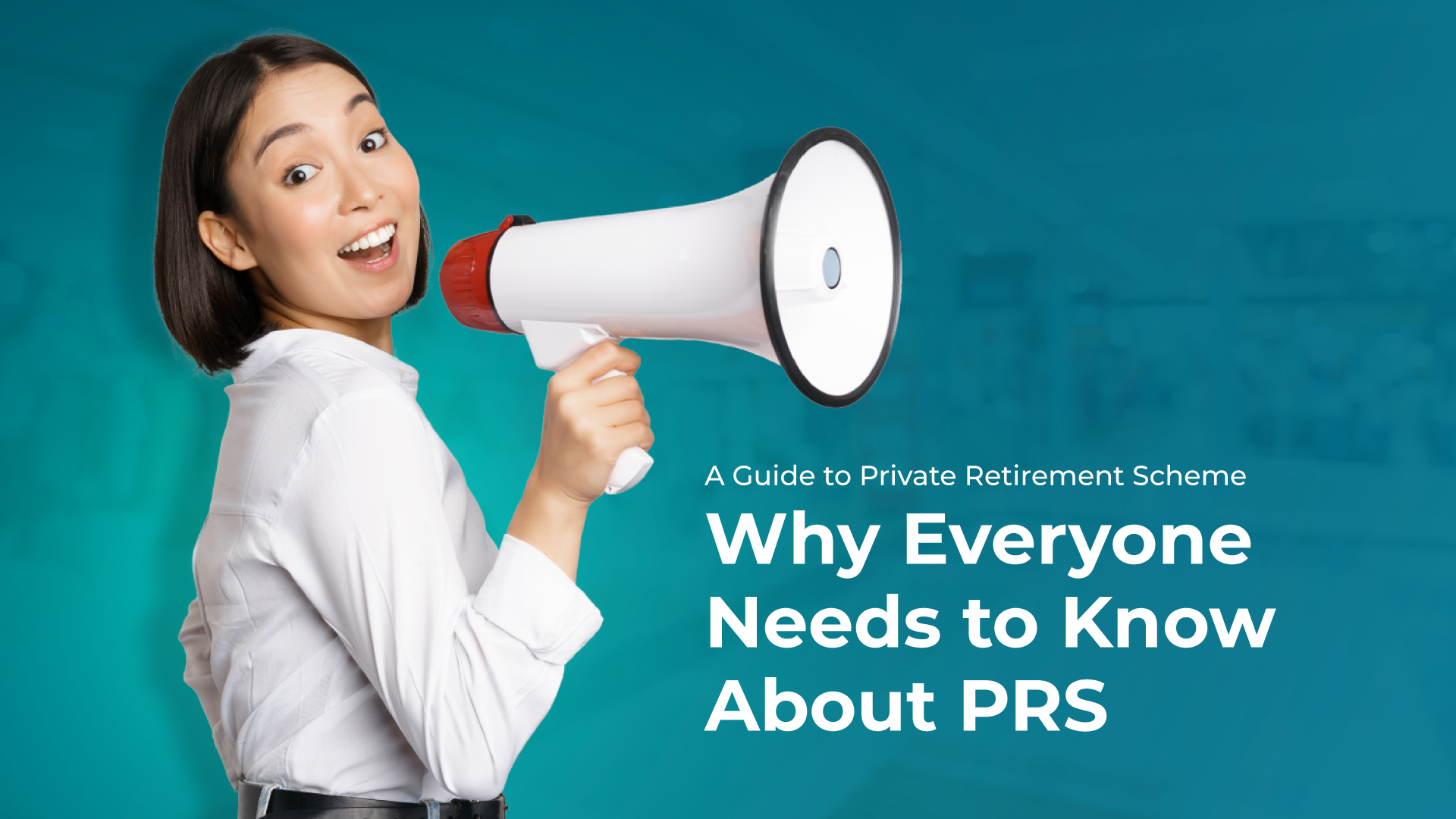 Did you know that according to the Employee Provident Fund (EPF), only 4% of Malaysians can actually afford to retire?
You've probably heard about retirement on the news or from your family. But it's not just a far-off idea; it's how you can achieve financial freedom. With inflation soaring and the cost of living on the rise, experts now say you should aim for at least RM1 million to retire comfortably. Sounds like a lot, right? Don't worry; we've got your back!
Meet the Private Retirement Scheme (PRS). 🎉

What's PRS, You Ask?
Well, it's not as complicated as it might sound. PRS is like the sidekick to your trusty EPF. It's a voluntary investment plan that helps you save up for your golden years while giving you more control over your financial destiny.

How does it work?
We've teamed up with the experts at AHAM Capital to offer you six exciting PRS funds, catering to your preferences and risk appetite:
AHAM PRS Conservative Fund (PRS Conservative)
AHAM PRS Moderate Fund (PRS Moderate)
AHAM PRS Growth Fund (PRS Growth)
AHAM Aiiman PRS Shariah Conservative Fund (PRS Conservative-i)
AHAM Aiiman PRS Shariah Moderate Fund (PRS Moderate-i)
AHAM Aiiman PRS Shariah Growth Fund (PRS Growth-i)
You can choose to invest in one or more of these funds!
Every contribution you make will be divided into two accounts:
70% goes into Sub-Account A, which you can withdraw when you hit retirement age or if you leave Malaysia.
30% goes into Sub-Account B, available for withdrawal once per calendar year, subject to an 8% tax penalty on the pre-retirement withdrawal sum.


What are the benefits of investing with PRS?
Here are some reasons why PRS is your ticket to a brighter retirement:
Affordable Start: You can get started with as little as RM100, and subsequent contributions of RM100. You can also invest in PRS through Versa with a lump sum of RM3,000 and earn a Versa Cash Bonus of RM50 and 12% p.a. net returns in Versa Cash.
Diversification: With a variety of funds to choose from, you can tailor your investments to match your goals, risk tolerance, and retirement timeline.
Flexibility: You're in control! Decide how much to invest, how often, and for how long.
Long-Term Security: PRS is designed to ensure you can enjoy your retirement without worrying about your finances.
Tax Benefits: You can get up to RM3,000 in tax relief every year until 2025. That's more money in your pocket!
Easy Nomination: Safeguard your loved ones effortlessly through PRS nomination. It's simple and secure.


Key Takeaway
If you're looking to supercharge your retirement savings, PRS is the way to go. It offers the flexibility you want and the expertise you need to build a brighter future.


At Versa, we want to help you save more with rewards
Get a RM50* Versa Cash Bonus and 12%* p.a. net return rate on your Versa Cash balance when you invest your first RM3,000 in any PRS fund.
But wait, there's more – we want you to share the joy with a friend.
Share your referral code to a friend.
Your friend must make a first minimum cash in of RM100 in a single transaction into any PRS funds in Versa. Both of you will receive a RM10 reward on your Versa Cash account.
Once you friend's total balance in his/her PRS account reaches RM3,000 within a calendar year: Both of you will receive a RM40 reward each. This totals your referral reward to RM50! 💰💪
Ready to take charge of your retirement journey and secure financial freedom? Start today with Versa Retirement. #YouCanDuit 🚀🌟
*T&Cs apply. Learn more here