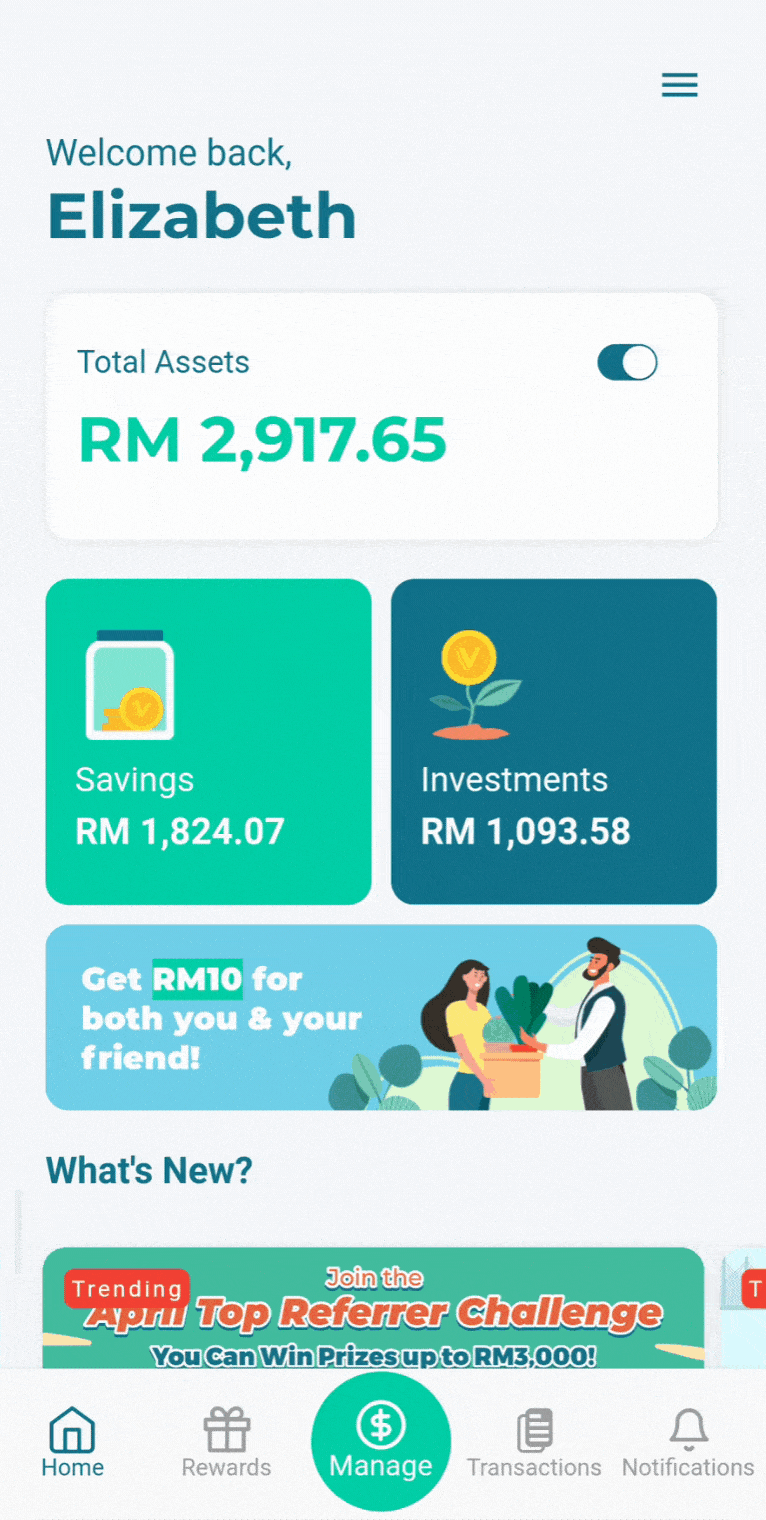 Grow your wealth all in one app, with just a few taps. It's that easy!

Expert fund managers growing money for you. Start with a low amount.

Maximise gains with low and transparent fees
Security matters to us
Regulated by the Securities Commission (SC) Malaysia
State of the art

digital security

; Two-factor authentication (2FA) and data encryption
Your money is held by an

independent registered trustee

; separated from Versa's own funds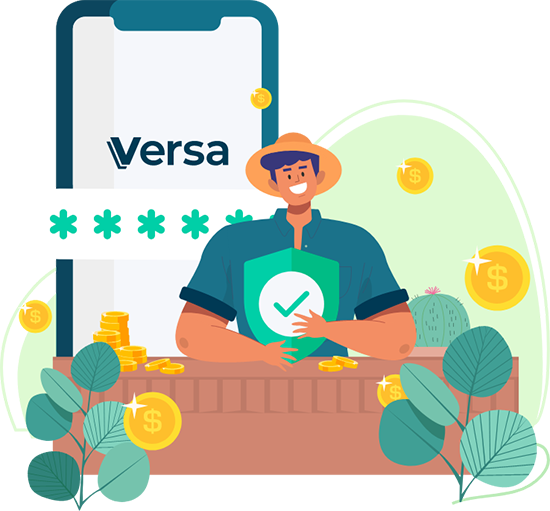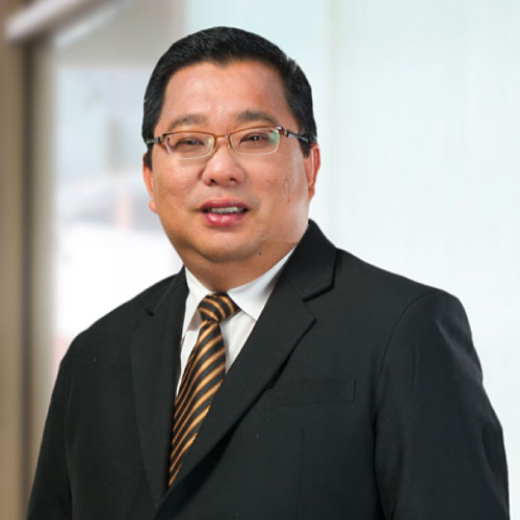 "Our partnership with Versa will provide a solution for investors to diversify their investments and maximise the potential of their cash reserves in their portfolio"
Dato' Teng Chee Wai
Managing Director, AHAM Asset Management
RM 82bil
Total Assets Under Administration
197,068
Total Clients and counting

Convenient and Easy to Use
Interest earned on Versa Cash is higher than banks' interest on savings account. User friendly app too.
Dec 9, 2022 by Nat T.

The app is user friendly.
…and information clearly illustrated or shown. Good tips and information for reading and easy to understand.
July 20, 2021 by Raymond Y.

Good cash management platform.
I'm able invest in money market funds easily. If you want to withdraw your money, the process is very fast. Tq versa
July 20, 2021 by Naga M.

Good alternative than banks!
Been deposited some money inside, and it does grow day by day, and available for withdrawal anytime. Recommend for whose has temporarily idle cash, as interest is compounded daily, definitely a good alternative platform than bank saving acc…
February 24, 2021 by JL Yee

Great introduction to easy investment
Been using it for a while instead of using fixed deposits. Great to use so far with easy to understand navigation and flexi returns. Looking forward for more features to come.
February 25, 2021 by Vicky C.

Best way to earn daily interest so far!
Easy way to earn decent interest with no lock in like FD. Definitely a very good alternative to have.
February 22, 2021 by Guantat
Frequently Asked Questions
Who can open an account with Versa?
Only Malaysian citizens who are 18 years old and above and have an NRIC/MyKad can open a Versa account.
*MY Permanent residents are not eligible for a Versa account.
What are the fees and charges?
The Versa platform does not charge any fees to their user. However, there are management fees, trustee fees and fund-level fees paid to the fund managers, which differs based on the portfolios.
For Versa Cash, there are 0.30% per annum management fees and 0.05% per annum trustee fee.
For Versa Invest, the fees are shown as below:
Annual Management fee: 1% per annum
Sales Charge: 0%
Redemption Fee: 0%
Trustee fee: 0.04% per annum
Is Versa PIDM Protected?
Money market funds are not protected by PIDM. However, the Versa Fund places / diversifies our customer's funds in multiple short term deposits of multiple Malaysian banks. In an unlikely case that one bank were to go under, it would only slightly affect the return of the fund.
Are Versa's portfolios Shariah Compliant?
Yes. Versa currently provides two Shariah Compliant funds, which are Versa Cash-i and Versa Gold.
What makes Versa Cash a better solution for your savings?
Investing with Versa means choosing lower risks with potentially higher returns. Versa Cash invests in a specific Money Market Fund called the Affin Hwang's Enhanced Deposit Fund which only invests in low-risk assets – short term deposits in multiple Malaysian banks. Next, Versa Cash lets you make the most out of your money. Unlike a conventional savings account which only offers low basic interest, Versa Cash offers returns that is compounded monthly. Finally, you can make on the spot decisions with Versa. With Versa, you can withdraw anytime with all the returns earned and expect your money to be in your bank account within the next day* – with no penalties!
*Learn more about deposit & withdrawals here.