Financial wellness is….
… being able to pay off your car and house loan.
… living comfortably for a year – jobless.
… retiring with your EPF and an additional retirement fund to pursue your interests.
All without worrying that you don't have enough savings.
The first step to reach financial wellness starts with saving and letting the returns compound
Where do you put the money? If you're old school, maybe it's your trusty mattress ?️ What gives you better sleep than feeling your hard-earned money tucked in your bedding? While that could make you feel comfortable, it's not exactly safe. Nosy family members, house fires, and break-ins may rob you of your hard-earned cash.
On the other hand, a savings account can provide you with actual security. But when you earn almost 0% interest, you may as well leave your savings under your bed ?‍♀️
If your end goal is financial wellness, then consider turning to passive income. The easiest way to do this is to earn returns on your existing savings and let your returns continuously compound to grow faster.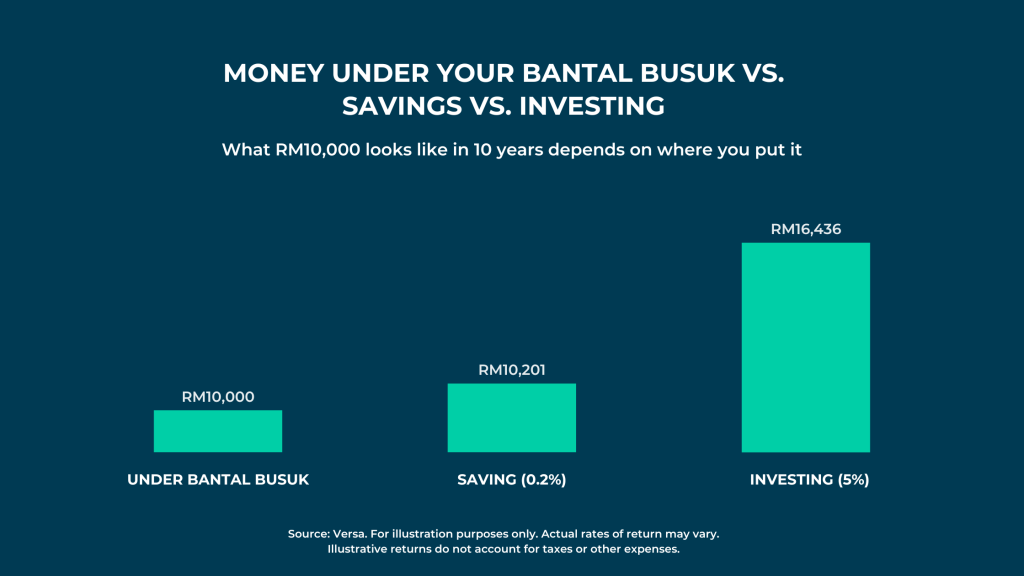 Compounding returns is essentially returns earned from previous returns earned
Sounds like a tongue twister but let me simplify it for you.
For example, you have RM5,000 saved in a low-risk fund that earns you 5% p.a. In your first month, your returns will be RM16.61. That return will be reinvested along with your initial RM5,000 savings.
So when you enter the second month, you now have RM5016.61 reinvested to earn another 5% p.a. return rate! This is what is known as making your money work for you.
By the end of the first year, you have RM5,203.20. If you consistently make monthly contributions to your savings (whether it's RM100 or RM1,000) you can increase potential returns further!
The longer your savings stay in the account, the more returns you accumulate over time
With money market funds offering higher returns than a regular savings account, you can find one that is the right fit for you. If you want to enjoy higher returns with the flexibility to cash out anytime, then go ahead and check out Versa Cash, that gives you the best of both worlds. Versa Cash is a low-risk fund that gives you FD-like returns, without any lock-in period commitments. You can cash out your funds anytime without penalties. What's more, fees are also low and transparent.
While it may feel like a slow process, remember the key to achieving financial wellness is to save and invest consistently. As the saying goes, sikit-sikit lama-lama jadi bukit. #YouCanDuit