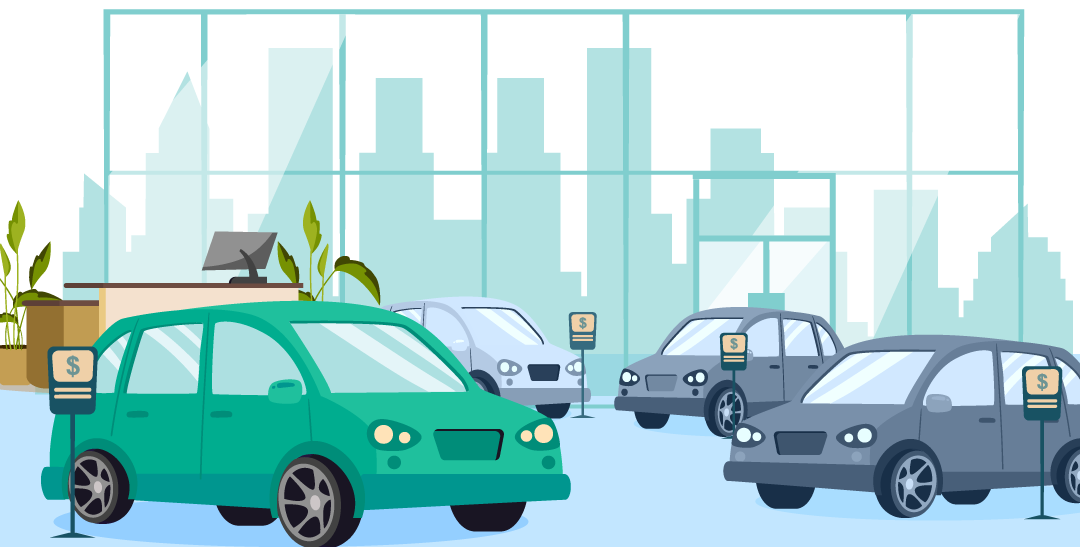 Owning a car seems like a big decision as it involves a substantial amount of money. There are about seven million cars in the Klang Valley in 2020 alone; even with the tremendous public transport improvement, many still rely on private transportation. Surprisingly, even with the current pandemic, car sales have not dampened, but cars' demands have increased. 
But are you ready to join the bandwagon to purchase your car and the financial commitment that comes with it, which will tie you down for a minimum of 5 years? 
Things that you need to look out for when you're buying a car:
Type of cars: You've decided on the kind of car as there are several available in Malaysia, such as locally made national cars, foreign-made and continental cars.
Brand new or used car: Did you know that cars in Malaysia have an annual depreciating value of 10%-20%; if you're on a lower budget, you may opt for a second-hand car and skip the depreciating part, but you'll always be at risk of the car's optimal functionality. 
Financial stability: Before sealing the deal, always ensure you have enough money for the down payment and emergencies. There are several stages in a driver's life, namely.
Monthly cost

: Loan repayment, petrol, etc

Annual cost

: Road tax, insurance, and maintenance 

Other unexpected costs
Insurance: Car insurance and road tax are pretty much compulsory if you own a car; thus, you should remember to include this amount in your yearly expenses as you're required to renew it on an annual basis
Five Factors You Should Know Before Signing Up For a Car Loan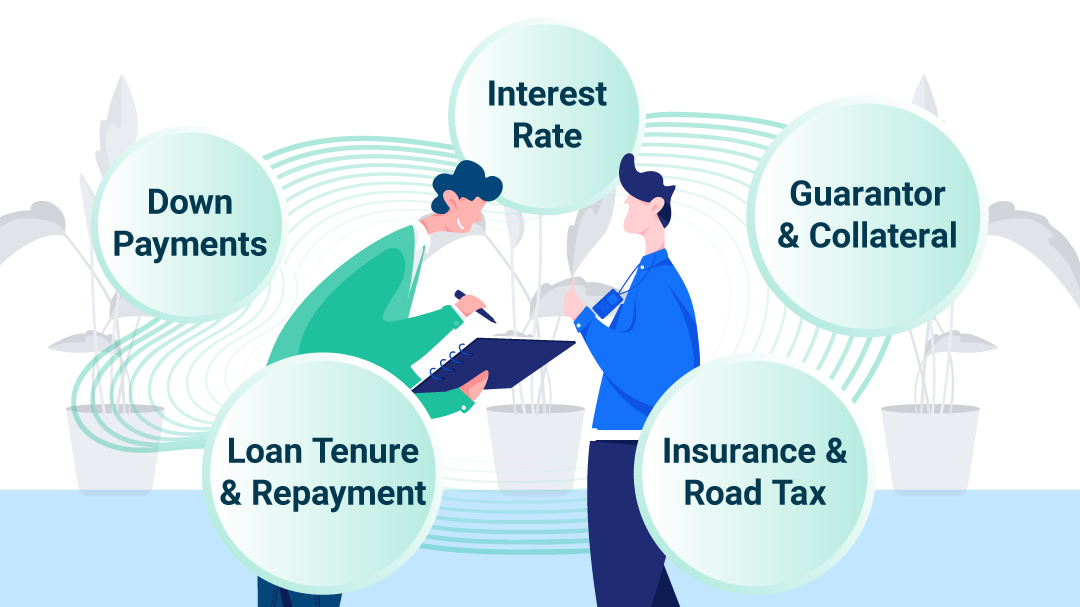 Down Payments 
A down payment is an initial payment that you make to book the car that you are interested in for purchase which usually cost a minimum of 
10% for new cars 

20% for used cars
It's a good idea to put a down payment for the loan if you're able to, as you'll benefit from borrowing a smaller amount, hence paying less interest.
For example:
For an RM45,000 loan, paying RM112.50 interest per month might not seem like a big amount initially, however for the entire 6 years of interest repayment, you'll be paying RM8,100 back to the bank only for interest.
Calculation:
Interest repayment per year – RM 1350
Interest repayment per month – RM 112.50
Loan Period – 6 Years (72 months)
Interest repayment per month X Loan Period = Total amount of interest to be paid to the bank
RM112.50 X 6 Years (72 months) = RM8,100
Therefore, although the interest is usually lower for a more considerable sum borrowed per annum, you'll still be paying more in the long run. Don't be fooled. 
Interest Rate
Every loan comes with an interest rate, which applies to car loans too. The rates for car loans are set based on two main factors:
National or foreign-made cars

New or used cars
You'll also need to choose between two types of car loans. 
Fixed-rate loans

– interest rate stays the same throughout the entire repayment period. 

Variable-rate loans

– interest rate fluctuates according to the market interest rate. 
Loan Tenure and Repayment 
You can sign up for a loan of a maximum of nine years. Depending on your loan amount and interest rate applied, your monthly repayments might differ accordingly.  But the biggest question here is, how much time do you need to pay off this loan? 
To know how the installment and interest rate is calculated for a fixed rate car loan, it is pretty much straightforward, and all you need is to determine these values:
Loan Amount

Loan Period

Interest Rate
This is how the total interest, monthly interest and monthly installment is calculated for your car loan.
Total Interest
Your total interest amount = interest rate/percentage x loan amount x  years.
Monthly Interest 
Your monthly interest = total interest / (loan period (Years)  x 12)
Monthly Installment
Your monthly instalment = (total amount of loan + total interest) / ( loan period (Years) x 12) 
For example: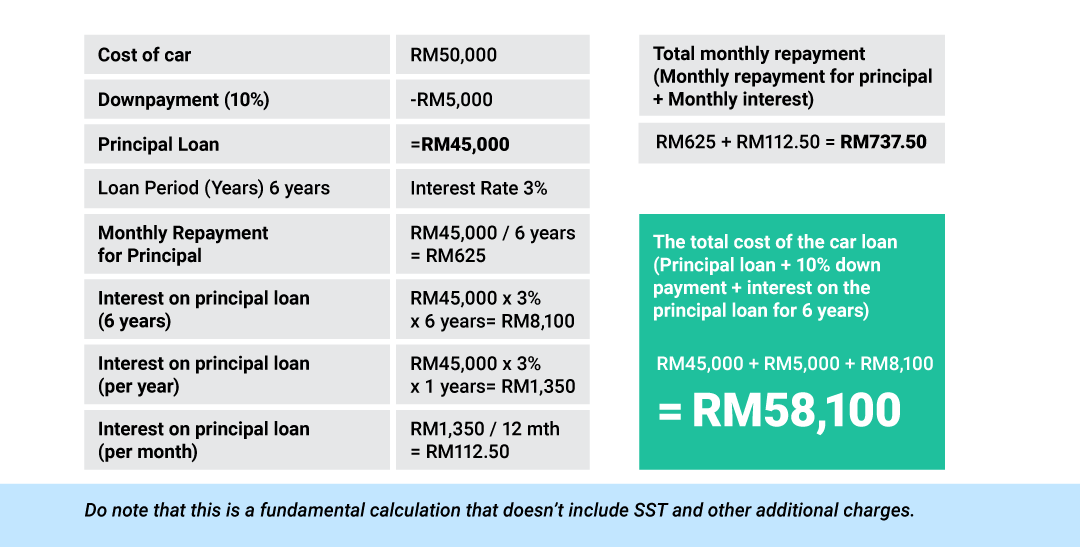 One other thing to remember applying to several banks and shopping around for cheaper rates as the interest rates differ from bank to bank, so it's always a good idea to check with the bank or online. Don't rush into it!
Guarantor and Collateral
While some banks do require a guarantor, others do not.  However, if your financial situation does not look so good, it might be a good idea to get a guarantor to help get your loan approved. 
Insurance & Road Tax 
In Malaysia, car insurance and road tax are pretty much compulsory if you own a car; thus, you should remember to include this amount in your yearly expenses as you're required to renew it on an annual basis. No matter how good a driver you are, no one can protect you from the other drivers on the road. The advantage of having car insurance is that if you accidentally meet with an accident or injure someone on the road, you would be able to claim to compensate them via your insurance. Fret not, as you're able to compare and renew your car insurance and road tax online via the MYEG portal. 
Since we have reached the end of the article, ask yourself, have you saved up enough money to buy yourself your dream car? There are plenty of factors involved when purchasing a car, and many of us tend to overlook it and blindly sign the documents.  Even though you have prepared yourself to see a chunk of your paycheck head towards the loan repayment, you should also consider having backup money for additional charges such as petrol, maintenance and repair, insurance, parking and toll.