Calling all Penang Bridge International Marathon runners: we have exciting news for you!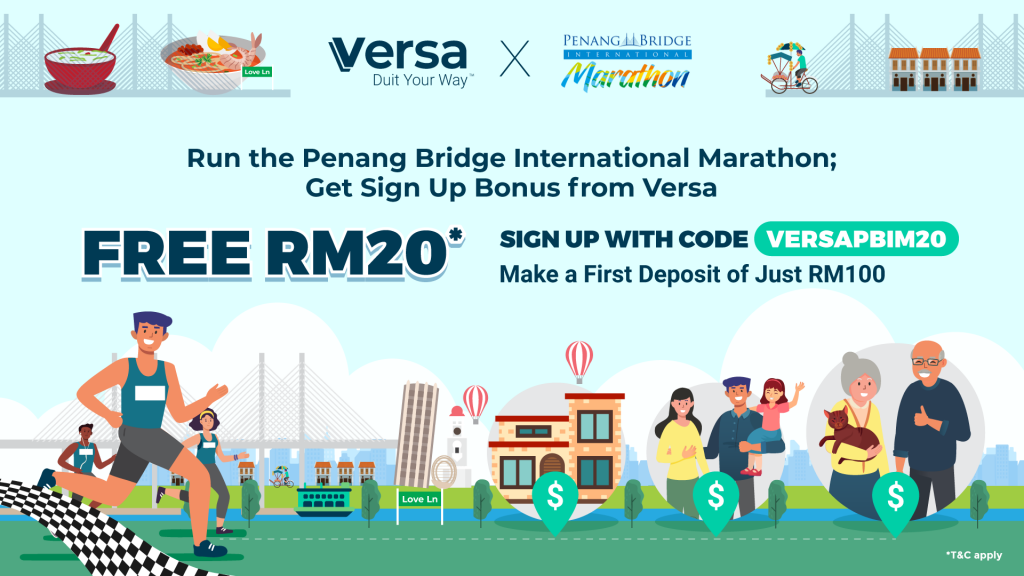 What makes a marathon fulfilling? It's getting to finally see your hard work and training pay off.
Make your journey to your health even more rewarding with bonuses to boost your trip to financial wellness! Just like preparing for a marathon, you need to do the same with your finances to see the results you want. That means planning, saving, and investing consistently.
We know it's not easy and that's why we want to help you.
What we do
We're Versa, a leading wealth management app, that helps Malaysians – like you! – grow their savings with no strings attached. If you're wondering, what's the catch? The good news is there isn't one. We spill all on how we grow your savings here.
Get your bonus here!
Psst! As part of our initiative to help Malaysians achieve financial wellness, we're partnering with PBIM 2022 as one of their sponsors!
Just like how a little energy drink can help boost your running, we're sponsoring a Boost to kickstart your financial journey: a one-time Sign Up Bonus up to RM20! For non-runners, we have a special Sign Up Bonus of RM10.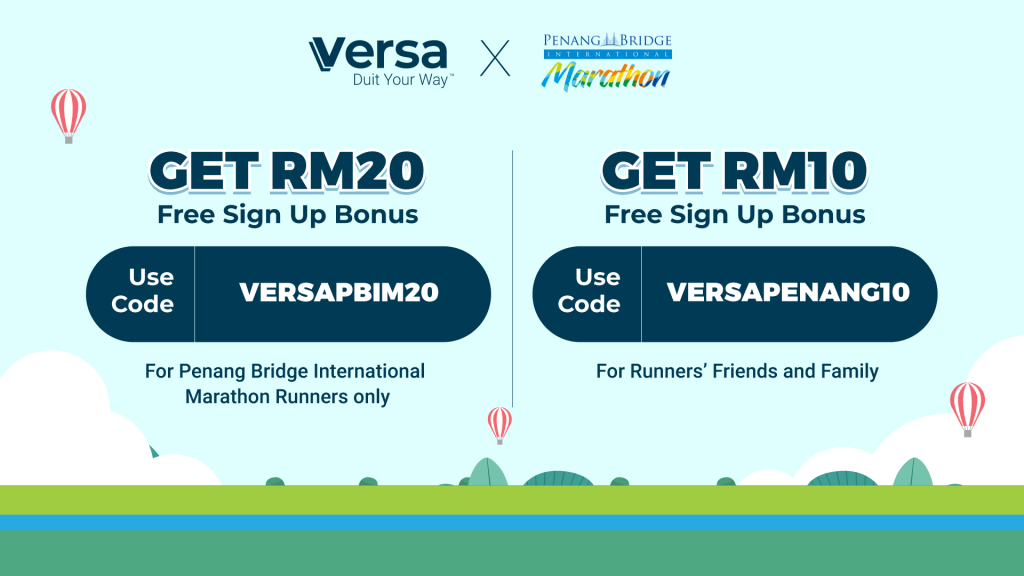 Here is how you can start growing your savings with Versa just by a few simple clicks:
Download the app.
Open the app. Don't forget to key in the Referral Code VERSAPBIM20 / VERSAPENANG10!
Complete onboarding. Your details are important for us to keep your account safe and secure.
To activate the Sign Up Code and claim your Bonus, make a first minimum deposit of at least RM100.
You're all set.
By saving with us, your savings will start training as hard as you are. Remember: The journey to financial health is a marathon, not a sprint. You don't want to exhaust yourself before you've even started.
Terms & Conditions:
The campaign period is from 4 April 2022 – 11 December 2022.
Versa is only available for Malaysians aged 18 and above who own an Identification Card (IC) and a Savings Account.
This campaign is open to new users who are not current or past users of Versa. The new user must fulfill the conditions stated in the campaign to be eligible for the reward.
The RM20 Sign Up Bonus using the code VERSAPBIM20 is limited to the first 5,000 runners of the Penang Bridge International Marathon.
The RM10 Sign Up Bonus using the code VERSAPENANG10 is limited to the first 5,000 Friends & Family members of the Penang Bridge International Marathon.
In order to be eligible for the Sign Up Bonus, the new users are required to complete onboarding and make a first minimum deposit of RM100 into any Versa product immediately upon creating their account
The Sign Up Bonus will be deposited into the users' Versa account within 30 – 40 business days after confirmation of the first RM100 minimum deposit and upon verifying that the user is a PBIM participant
Only accounts that are created and verified within the campaign period (4 April 2022 – 11 December 2022) will be counted as eligible for the campaign.
The Sign Up Bonus will be credited into the users' Enhanced Deposit Fund (EDF) in the form of units.
Versa will not disclose any information related to users' eligibility and information regarding the application status of users referees' accounts.
Versa will not entertain the addition and switching of referral codes when an account has been created with or without an existing referral code.
Versa reserves the right to alter or modify the campaign mechanics at any time.
Versa reserves the right to terminate and decline to grant the reward if in any event Versa determines that there may have been fraudulent activity or a violation of the terms stated.
By participating in this Campaign, the eligible participants hereby expressly agree to be bound by these terms & conditions and any decisions made by Versa in respect of the campaign shall be final and binding.