Simple Guide to Versa
Want to start saving money but don't know where to start? Versa is here to show you a new & simple way of managing your money that involves low risk, no hassle, and no worries.
Before we get started, here's a short video of how Versa works:
https://www.youtube.com/watch?v=qwO6I08yO1k&feature=emb_title
How it works
Simply deposit your cash, sit back and watch your money grow as interest is paid daily until the day you choose to withdraw it.
Key Points about Versa
High Returns

–

a lot higher than your savings account and on-par with Fixed Deposits
Low Initial Deposit – you can start using Versa from as low as RM 1
Low risk

–

the EDF fund only invests in Fixed Deposits
No lock-in period –

withdraw your money whenever you need with no penalties
No hidden fees

–

we promise there are no sale charges, transfer, and exit fees
Rest assured, your money is in safe hands as it will be managed by our experienced fund managers at Affin Hwang Asset Management who is one of the top three largest asset managers in Malaysia.
Section 1: Creating a Versa Account
Let's get started! Put in your display name and email address. Next, set your password (Must have at least 8 characters with 1 uppercase letter, 1 lowercase letter, and 1 number. for Example Du1turway)
Section 2: Verifying Your Identity
You'll be asked to enter your mobile number and request an OTP (one-time pin).
Take a photo of your MyKad (front and back) and take a selfie to verify your identity. Confirm that your details and address are correct.
The e-KYC ('Know Your Customer') process is a requirement by regulators.
After that, you'll be prompted to answer a couple of questions about your details and employment. Agree to the T&C and your onboarding process is complete!
Kindly allow 2-3 working days for us to verify your account.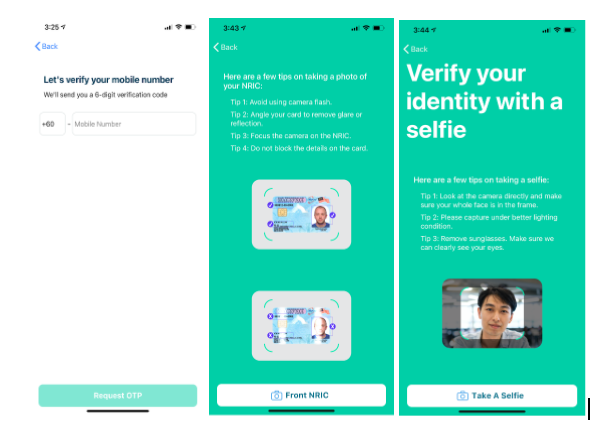 Navigating the Versa App
Your dashboard is where you'll see your available balance in your Versa account as well as see your expected income distribution so you know how much has been saved and when further savings will arrive.
You can also view your transaction history by clicking the icon on the bottom right to view your deposits and withdrawals.
Section 3: Perform a Deposit
Congratulations! You can now make your first deposit (minimum of RM 1) and start getting daily returns!
Click on the "Deposit" button on your dashboard. Enter the amount you want to deposit. Select the bank that you'll be withdrawing your money from and click on "Agree and Continue" to proceed.
Follow the instructions and complete the login process according to your bank.
You've successfully made your first deposit into your Versa account! Your balance in your dashboard will be updated and you can view your transaction history. You'll need to wait one day before making a withdrawal.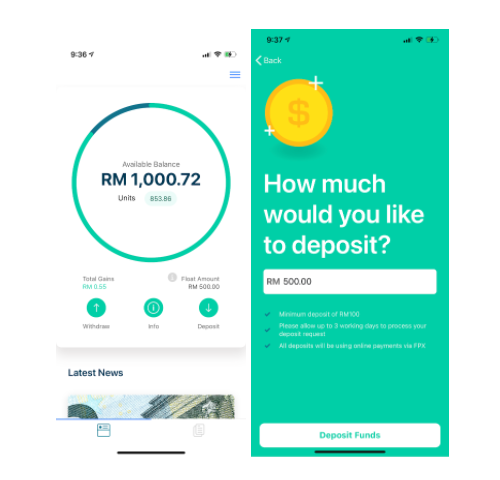 Section 4: Perform a Withdrawal
Once you're ready to withdraw your money from your account, go ahead! (There are no penalties or lock-in period.)
Click on the "Withdraw" icon. Fill in your bank account details and link your withdrawal bank account. Enter the amount you wish to withdraw, select your bank account, and click on 'withdraw'! It will take 1 business day to verify your withdrawal if the withdrawal request is made before the cut-off time (12 p.m.).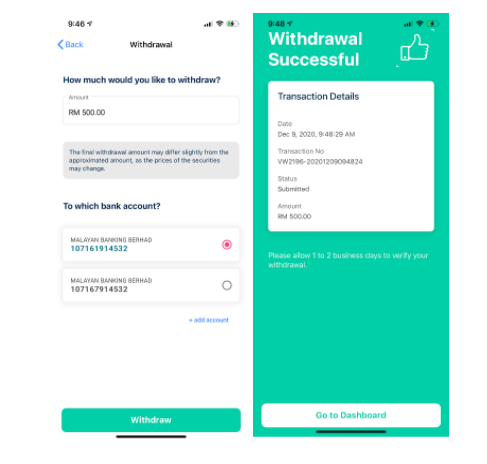 And you're done! It's that simple! Download the Versa app here and start growing your money today! For more information, check out our FAQs to learn more.