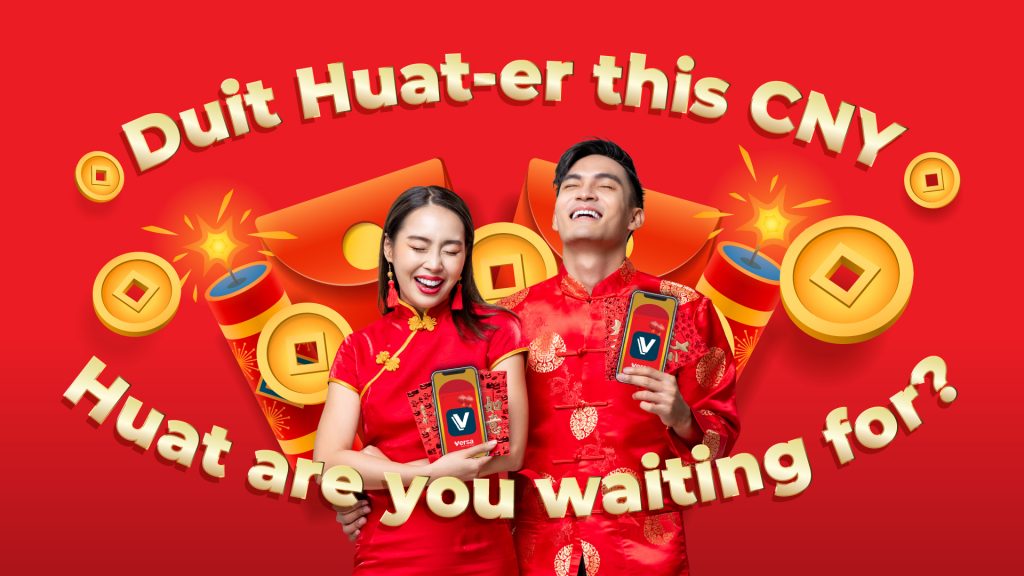 We're making 2022 CNY special just for you! Tap into your AngPao's potential with Versa and earn returns similar to Fixed Deposit rates without any lock-ins.
So huat are you waiting for? Save with Versa and enjoy our special CNY Deals just for Versa users – from e-AngPaos and a chance to win up to RM3,888*!
What are our CNY Deals?
Versa e-AngPao Rewards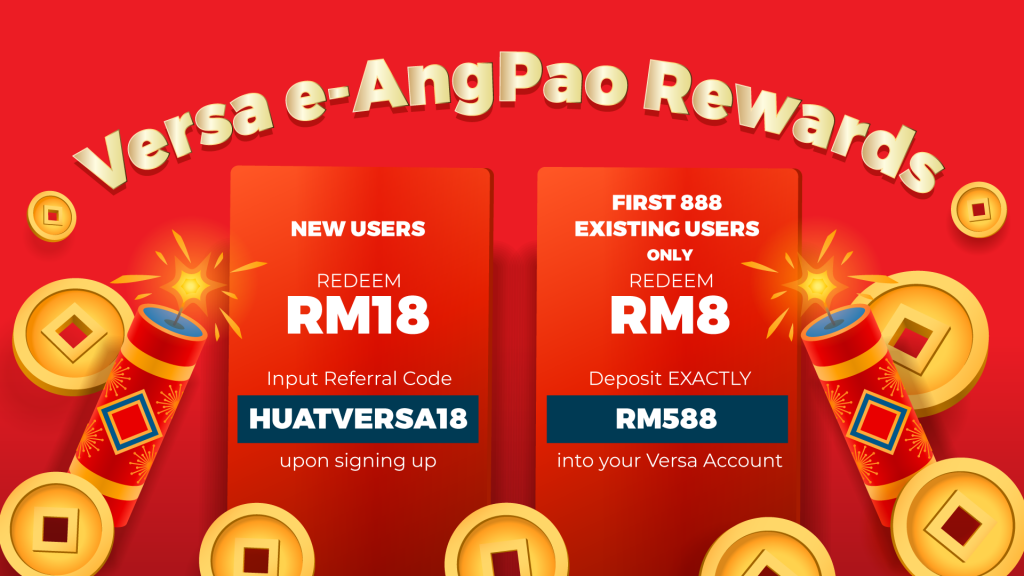 For new users
Redeem RM18 when you use Referral Code HUATVERSA18 (or other participating codes from our partners) when signing up for your Versa account. Ensure to make your first minimum deposit RM88 to redeem your e-AngPao.
For our existing users
Redeem RM8 when you deposit EXACTLY RM588 into your Versa account. Act fast as this e-AngPao is limited to the first 888 existing users (Kindly bear in mind that new users are not eligible to redeem this RM8 e-AngPao for existing users).
All e-AngPao rewards will be credited into your account within 30 business days after you have met the campaign requirements and the account is verified / approved successfully.
Share the Ong Challenge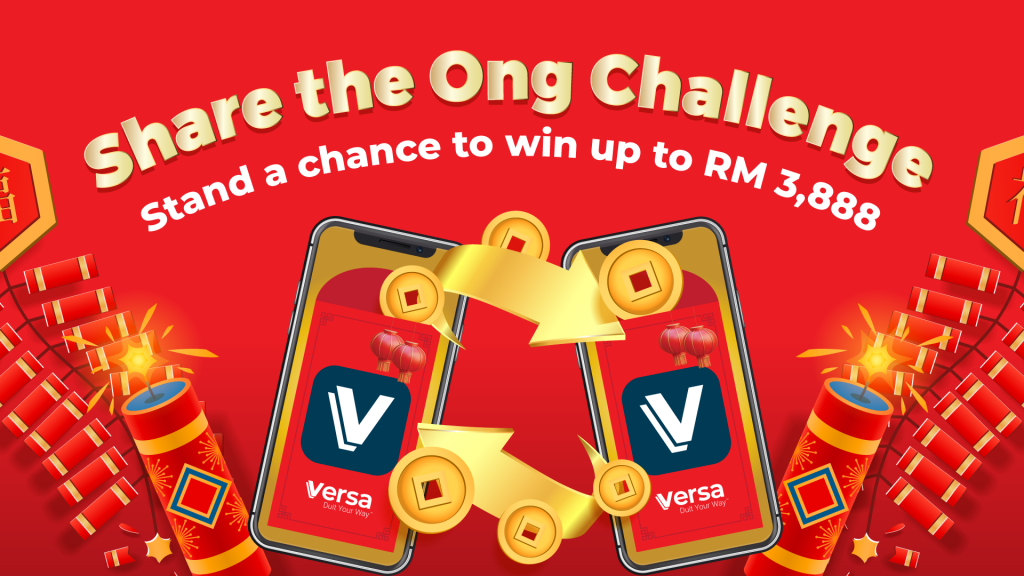 Stand a chance to win up to RM3,888 by being our highest referrer while still earning RM10 for each successful referral!
The special rewards awaiting you are as the following: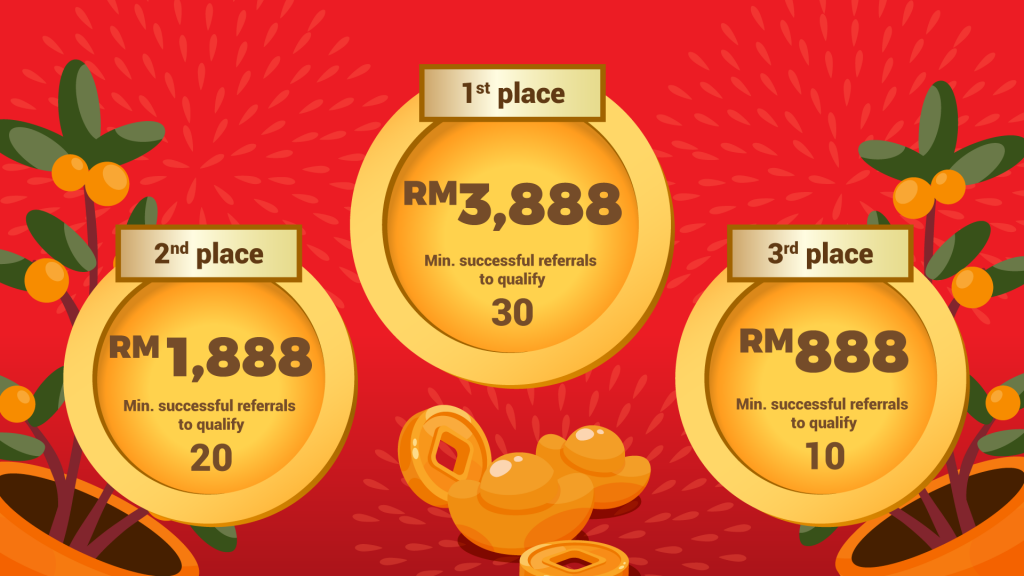 The winners will be announced on 7th March 2022 on our official Facebook and Instagram page.
Not only that: our RM10 Referral Reward still stands. So for anyone you invite to join Versa, you will both receive a reward of RM10!
Campaign Requirements:
Your referee must be a new user and does not have an existing Versa account or closed Versa account.
Your referee must sign up using the referral code or referral link you provide.
Once your referee has registered, their account must be verified for them to be able to make a deposit.
Once the referee joins Versa and successfully makes a first minimum deposit of RM100, both of you will be entitled to the RM10 reward.
RM10 reward will be credited into both the referrer's Versa account and referee's Versa account within 30 days after the referee's account is approved and the referee makes a first minimum deposit of RM100.
Step-by-Step Guide on How to Refer Friends to Versa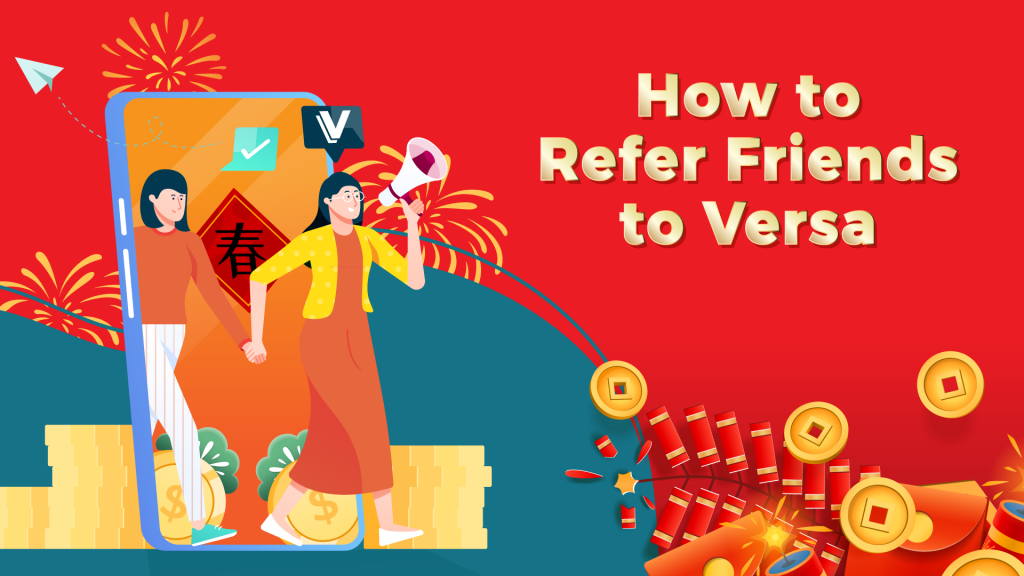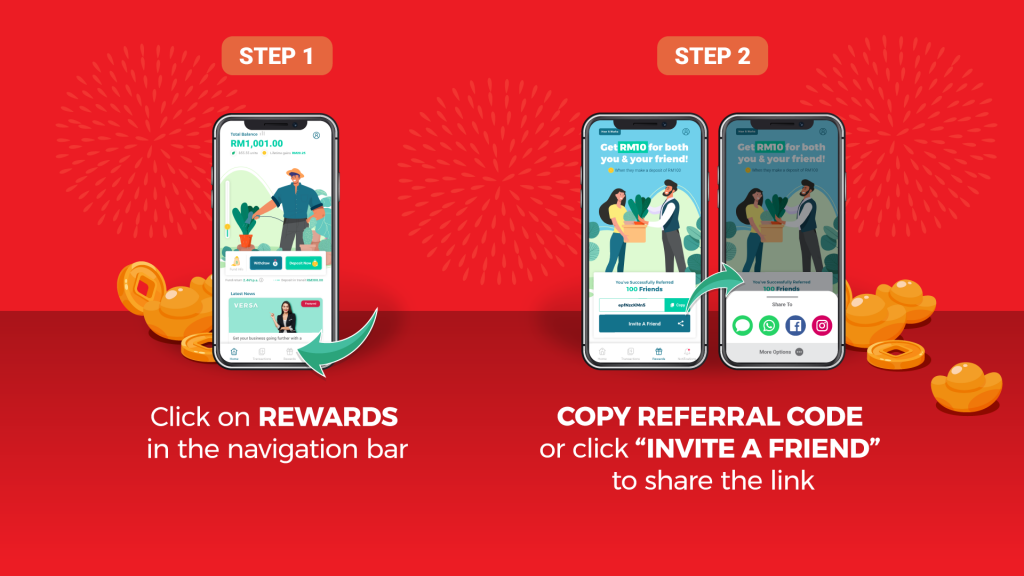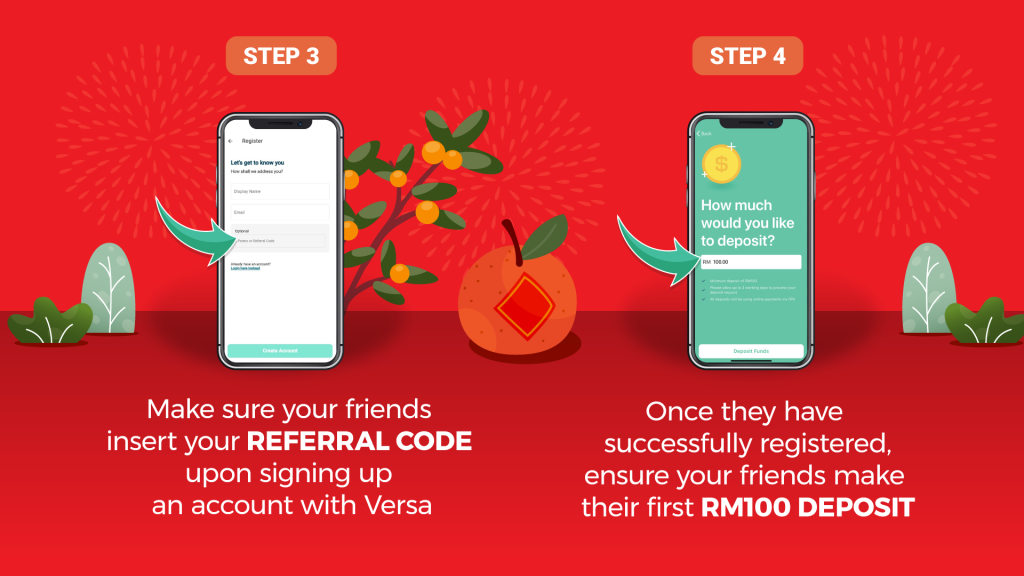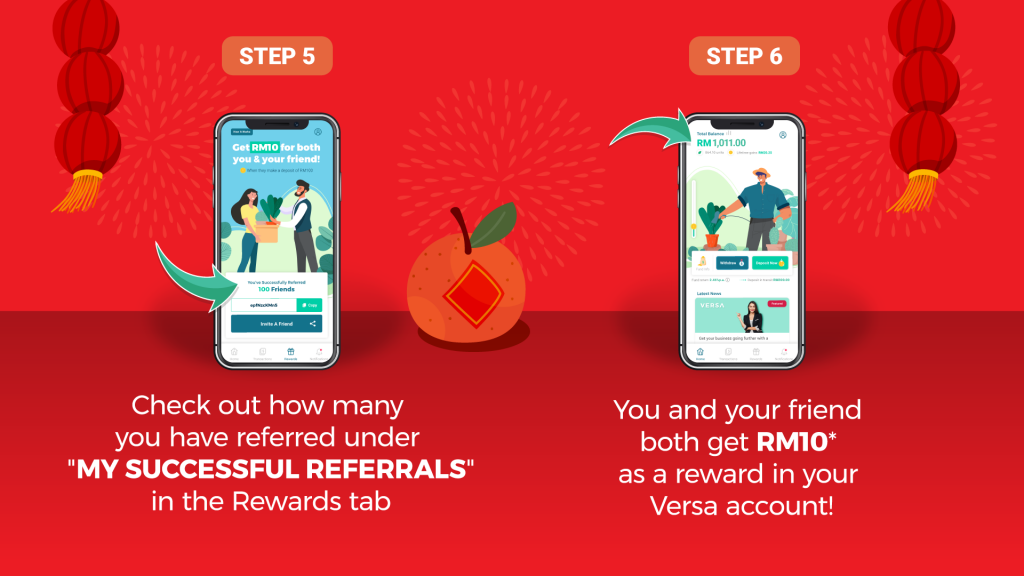 So, huat are you waiting for? Go ahead and get as many people as you can to join Versa!
*Terms and Conditions:
Campaign period is from 25 January – 28 February 2022.
Versa is only available for Malaysians aged 18 and above who own an Identification Card (IC) and a Savings Account.
This campaign is open to NEW users who signed up with either participating referral code and EXISTING users who deposited/invested the required amount within the campaign period.
Users are eligible to claim only one (1) e-AngPao (RM18 e-AngPao for new users or RM8 e-AngPao for Existing Users only).
Only accounts that are created and verified within the campaign period (25th Jan – 28th Feb) will be eligible to redeem the campaign rewards.
To be selected to win the Share the Ong Challenge prizes, investors are required to refer as many friends and family within the campaign period with their in-app unique referral code that can be found under the "Reward" tab. In order for the referral to be counted, the referees are required to make a first minimum deposit of RM100 immediately upon creating their account. To be eligible to win, investors are required to fulfill the minimum number of referrals.
The Share the Ong Challenge winners will be announced on 7th March 2022 on Versa's official Facebook and Instagram pages.
Bonus rewards will be given to the qualified NEW and EXISTING users who met the campaign requirements according to the set limit first come first served basis.
Versa will not disclose any information related to users' eligibility and information regarding the application status of users referees' accounts.
Versa will not entertain the addition and switching of referral codes when an account has been created with or without an existing referral code.
Bonus rewards will be credited into the investors EDF account directly within 30 business days after the campaign ends.
Versa staff and partners are ineligible to participate in this campaign.
Versa reserves the right to alter or modify the campaign mechanics at any time.
Versa reserves the right to terminate and decline to grant the reward if in any event Versa determines that there may have been fraudulent activity or a violation of the terms stated.
By participating in this Campaign, the eligible participants hereby expressly agree to be bound by these terms & conditions and any decisions made by Versa in respect of the campaign shall be final and binding.